While most in the legal age drink alcohol, many prefer not to on certain days. But it seems that society at large has become so vicious we tend to not respect what others want. Spiking of drinks has many happening for the longest time. People are often warned at parties to take care of their drinks because if they lose sight of their drink, the next minute they could be drinking anything. Till date there was no sign of relief until the creation of NightCap.
NightCap Founder and Story
Shirah Benarde, back when she wasn't old enough to sip a drink, came up with a rather practical solution to the danger of drink-spiking. She had heard about this issue from a number of her friends who were already in college. She came up with a solution, NightCap. It actually came to her in a dream. The following day she took a pair of pantyhose, cut them up and attached them to a scrunchie, creating the first prototype.
Shirah's older brother, Michael was by then already in college. He was well aware that drinks were spiked often while in college. Michael had studied at the Jim Moran School of Entrepreneurship. When he came back home for the summer, he realised that Shirah's invention had huge scope. They began working on making NightCap a reality.
Soon enough they applied for a patent. There was also a funding campaign was initiated on Indiegogo in October, 2019, ending up with $12,275 from 217 backers.They applied for a patent and a funding campaign was initiated on Indiegogo in October, 2019, ending up with $12,275 from 217 backers.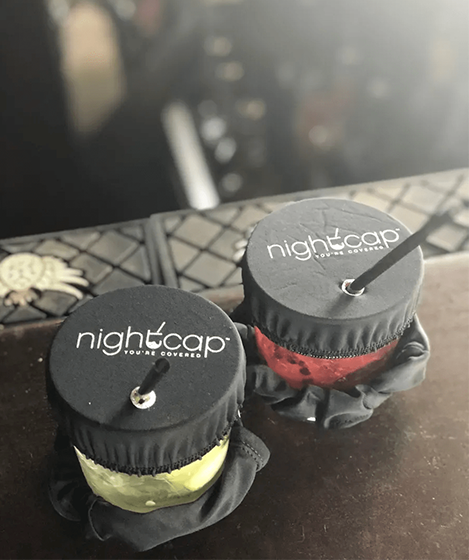 Michael and Shirah also entered the product in pitch competitions, including Florida State University's InNOLEvation Challenge, Tallahassee Startup Week's Annual Pitch, and FSU's Jim Moran Micro Grant. NightCap bagged the first spot in the annual Turkey Tank, an informal competition where three startups from FSU and rival University of Florida compete for the top spot's $100, bragging rights and a trophy! It has been featured on many media outlets including USA Today and Fox Business Network.
Even though 2020 was a disaster of a year for many, it wasn't for NightCap. Vassar College Store began carrying NightCap in 2020. Then the company began internal shipping to over 46 other countries including Ireland, Germany and Australia, among others.
Features of NightCap
The NightCap is a flexible cover created from a nylon/spandex combination. It fits in most of our standard drinking glasses.
The cover is able to fit perfectly over a scrunch which makes it easy and fashionable to carry across places when we are out.
The NightCap can be washed in the machine and even has a small opening for a straw.
Along with this are available, separate carrying bag with stainless steel straws and a specially designed cleaning brush.
Shirah and Michael have been very vocal about their disapproval over leaving a drink unattended. They say that the cover doesn't act as a safe bet and we should still be aware of what is happening. But the NightCap does make it difficult to hamper with the drink. The covers other uses are to prevent the bugs from entering the drink.