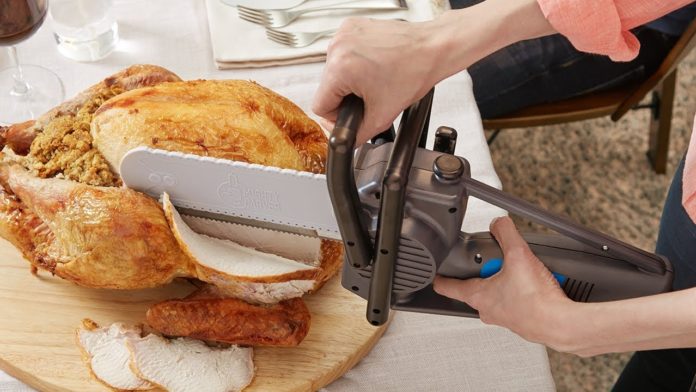 Every Thanksgiving, families facing a serious issue coming their way, while all await the fabulous meal prepared the carving of the turkey proves to be a task. A turkey needs to be carved perfectly, it's just the added benefit of the holiday. Kim Burney founded the Lankim LLC DBA Mighty Carver along with her husband Lance.
Mighty Carver Turkey Chainsaw Founders and their Story
Kim and Lance Burney were in the woods at their cabin on a mountaintop in Montana. While they were all there for Thanksgiving, they noticed that the trees around the cabin had grown and needed trimming. Every grown up present was eager and up for the task because who didn't love playing with a chainsaw. But when it came to carving the turkey there was dead silence.
All those years, their grandfather used to carve the turkey and he was amazing at it. But he had recently passed away leaving the baton up in the air. That's when Kim came up with the idea of a mighty carver. She decided on using an electric knife that looked like a chainsaw to do the job and then invented Mighty Carver Electric Knife.
Features of the Mighty Carver Turkey Chainsaw
While some might say that there is nothing new about an electric knife as it was invented years ago, the carver has its distinct features. It looks like a toy chainsaw at 19 inches long, 5.8 inches wide, and 8.7 inches high.
The reciprocating knife has surgical-grade stainless steel blades with machine-cut, razor-sharp serrated edges. There is a button-activated blade release, a bar release for cleaning, and a stainless steel guide track. The ergonomic handle is comfortable and allows easy control of knife.
A carving fork comes in the package. It can even slice thin or thick cuts of meat. The carver is efficient and suitable to all needs. It is simple to use just like normal knives and is a great help in the kitchen.