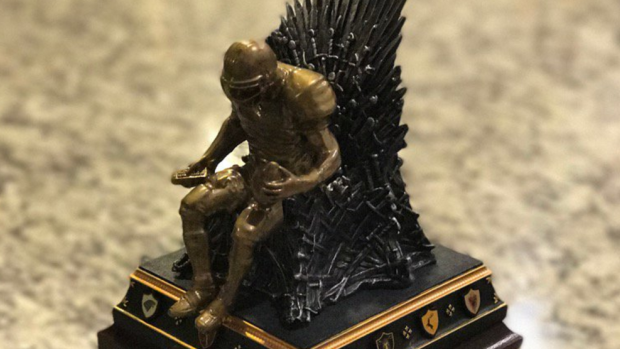 There are so many people out there who consider Fantasy Sports as a medium of attaining a meagre adrenaline rush for the geeks. But it will surprise many that there are over 59.3 million people who play fantasy sports in the USA and Canada. While Fantasy Sports is inclusive of basketball and soccer, what is most popular in the area is football. The revenue attained in Fantasy Football is $18.6 billion which way higher than any other sport.
Fantasy Football Trophies Founders and their Story
Dax Holt and Matt Walsh are both fantasy sports players. To say they live and breathe fantasy sports won't really be a hyperbole. They love the games and moreover love winning. But what they noticed was that although many were receiving trophies as a sign of triumph post win, those trophies were old fashioned and to be honest drat boring.
Dax had over 14 years of experience in the entertainment industry which was inclusive of being a writer, reporter, producer and an on camera expert for pop culture websites and TV shows. Matt had his own successfully executed start ups. Both were deeply in love with fantasy sports and their passion for entrepreneurship was an added bonus. Together they founded TrophySmack in 2017.
Features of Fantasy Football Trophies
TrophySmack provides customisable products such as rings, trophies and championship belts which are novel. The designs are all created within the company and further manufactured in-house as well. Dax and Matt then came up with the concept of a Swap Top. The name is catchy and so is the concept. The topper is updated annually. The previous year's winner gets the chance to keep the top as a souvenir. The trophies can also be customised choice of four anodized metal column colors and sizes between 26″-56″ for over 1000 unique fantasy trophy combinations. Initially, TrophySmack only catered to football leagues but they have recently ventured into baseball, basketball and soccer trophies, and the plan is to move onto other sports such as golf and hockey soon.