For a long time we have seen children loving to play with their toys in a manner wherein they throw the toy down and the mother picks the toy and gives it back. The baby loves this little activity and it is cute to watch as well. But this prevents the mother from continuing on with their work. Beth Fynbo, was a new mother facing these issues and was hell bent on finding a solution. Unable to find a solution, she decided to create one on her won and thus Busy Bay Mat was born.
The mat is made of high quality and has been approved by the FDA as a food grade silicone which suctions securely enough to maintain smooth surfaces and to stay clean at every corner. They also have a patented tether system which keeps the toys, pacifiers, sippy cups and the like within baby's reach and germ free.
The Busy Baby Mat Founders and Story
Beth and Eric Fynbo, are an enterprising sister and brother duo. They have both worked and played together their entire lives. When they came of age, both of them joined the army and were deployed to the Middle East. Beth received a bachelor's degree in Business Management from Minnesota State University and even has a master's in Project Management from Colorado Technical University. She has worked for the National Guard Bureau and the Mayo Clinic. Eric on the other hand eceived a degree in secondary education from Minnesota State University and worked in retail honing his skills in business management, strategic planning and inventory control. He is a perfect fit to join Beth as VP of operations at Busy Baby Mat LLC.
Features of the Busy Baby Mat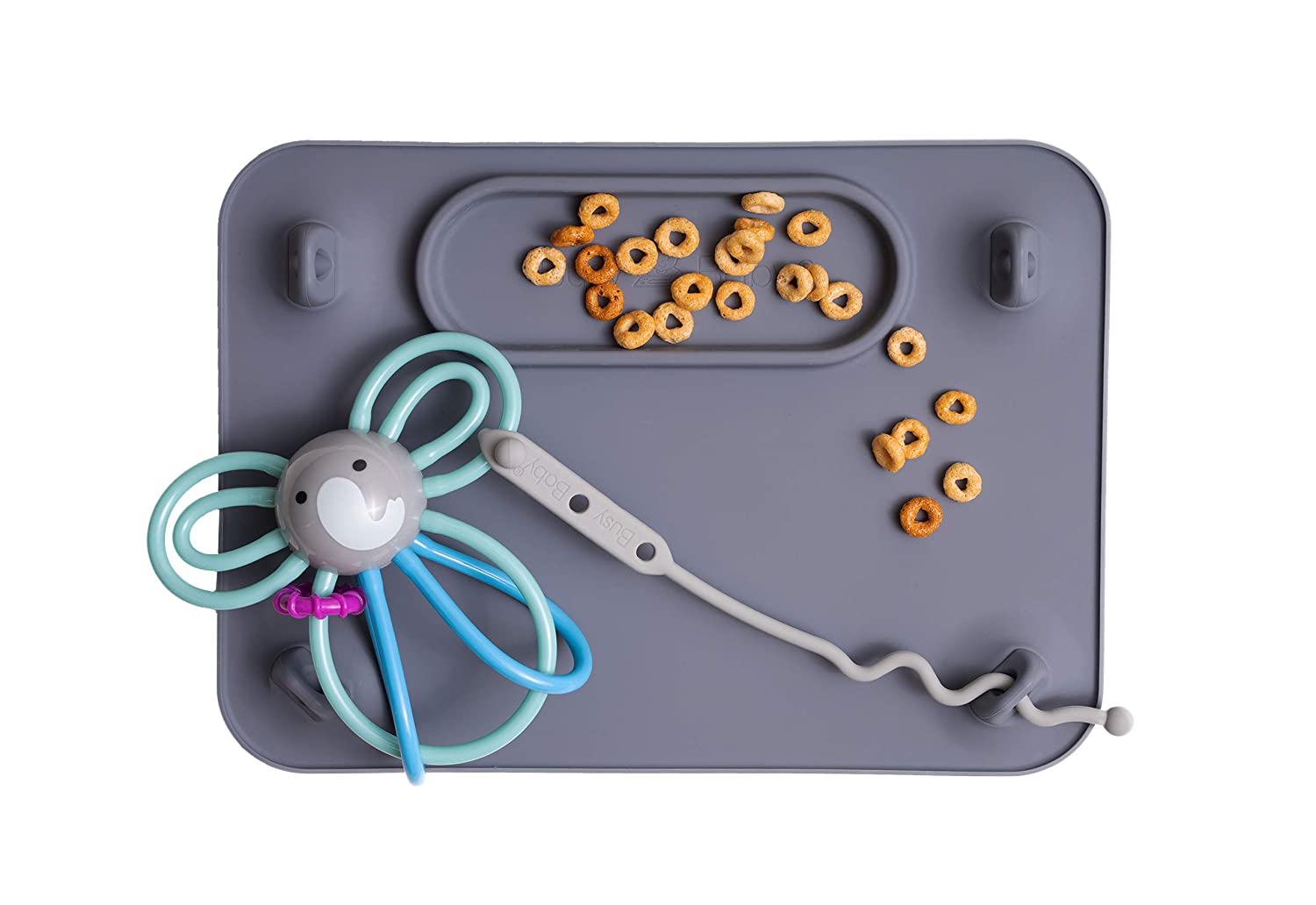 BPA, BPS, PVC and Phthalate free Protects baby from any any kind of itchy surface
The markers are washable which also makes them reusable as sketch pads
The baby can teether on the adjustable tethers
The sounds of banging is blurred It is durable, lightweight and flexible
It rolls up into a convenient sleeve when traveling
Very easy to clean
Both microwave and dishwasher safe
The Busy Baby Mat can be used flat on a table, high chair, airline tray; wrapped around shopping cart or infant carrier handles; and vertical on a sliding glass door, refrigerator or bathtub walls.
The Busy Baby Mat encourages the child to feed on their own. The silicone surface makes it easy for the child to pick the food up. There are eating vessel attached to the tethers so that they cannot get away from the baby. It also highly promotes motor skills. What the babies enjoy the most is threading the tether through the hole in the mat. This increases finger dexterity. Place the mat on a window or mirror and hang the toy downwards, the baby will try to stand and reach out for it. This will help develop balance and leg strength. Moreover, the Busy Baby Mat helps the child to learn case and effect relationship, problem solving skills and hand- eye coordination.