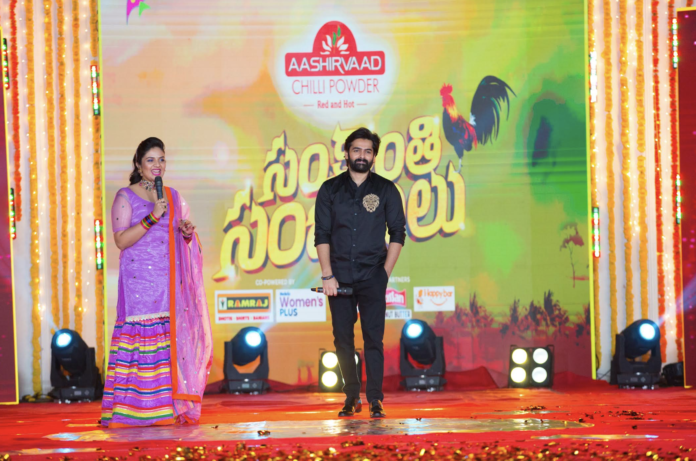 Adding on to the new year's festive vibes, Zee Telugu, one of the leading Telugu General Entertainment Channel, has announced the telecast of its special offering 'Sankranthi Samabaralu' for its ardent viewers. The show will feature Zee Telugu Kutumbam stars celebrating Sankranthi with much fervor and gaiety with a mix of special dances, comedy skits, music, and lots of fun. Tune-in to maximize your celebration on 13th & 14th January at 9 AM on Zee Telugu and Zee Telugu HD.
This special episode features the two-day event that witnessed a gathering of most of the actors from the Zee Telugu Kutumbam, rejoicing with traditional games and activities like Rangoli, Bullet race, and more. VJ Sunny and Sreemukhi host the jamboree. Simultaneously, the special attraction for the event is Energetic Star Ram Pothineni, who surprises the Zee Telugu family with his entry on bike along with a rally of bikers. The icing on the cake is, Ram unveils his upcoming movie posted, 'Red,' which is all set to release this Sankranti.
The second day adds to the festival's essence as Sudha Chandran, Sunanda and Anusha will portray as Goddesses and perform Ammavaru songs. Besides, fiction leads dances on some exciting medley songs—Navdeep and exuberant Sreemukhi anchor the mega event. The entire constellation of Zee Telugu's most popular stars descended on the same place and set the festival ablaze with their breathtaking performances. The high-octane performances, music by SRGMP 13th season contestants, Saddam comedy skits, etc., will give the audience a major thrill.
Celebrating every facet and flavor of the festival, Zee Telugu's Sankranthi Samabaralu brings alive the spirit of Makara Sankranthi along with entertainment like never before, making the couch potatoes stick up television.
Don't miss the wonders of entertainment unfold on 'Sankranti Samabaralu' on 13th and 14th January, at 9 AM on Zee Telugu and Zee Telugu HD.
To enjoy the show, subscribe to Zee Telugu, available in the Zee Prime Pack at Rs. 20 per month. To ensure you do not miss out on your favorite Zee Telugu shows, choose the Zee Prime Pack that includes Zee Telugu and Zee Cinema alongside 7 other top channels of the Zee Network cater to the daily entertainment needs of your entire family at Rs. 20 per month only. For further information, contact your DTH or cable operator.
About Zee Telugu:
Zee Telugu is the Telugu General Entertainment Channel of Zee Entertainment Enterprises Ltd (ZEEL). Launched on 18th May 2005, Zee Telugu was the first entrant from Zee bouquet to enter South India. Zee Telugu offers various shows that cater to the entertainment preferences of over 75 million Telugu audiences across India every week. From fiction shows to reality shows and talk shows, the channel has multi-genre offerings and is widely accepted as the ultimate entertainment destination. Zee Telugu creates exceptional content by offering fiction shows with unique story-lines, state-of-the-art non-fiction shows & events with extraordinary formats, and acquires satellite right to some of the largest Tollywood movies that appeal to viewers across age groups.
With a balanced mix of content and programming options, Zee Telugu is one of the top Telugu GEC channels in Andhra Pradesh and Telangana. Zee Telugu is well connected across all cable and digital platforms and also available on ZEE5.