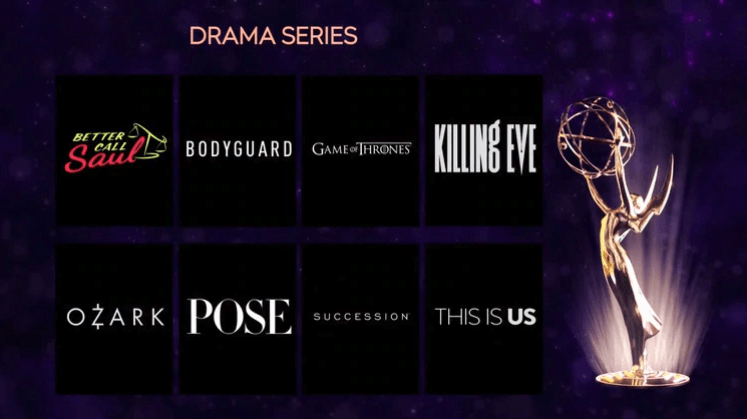 Like every year, September is the month in which the best of American television is chosen. Those who know say that the Emmy are much harder to predict than the Oscars. However, there is one thing that is almost certain in the 71st edition of the 2019 Emmy Awards: Game of Thrones will win many trophies after breaking all records by winning 32 nominations, including the coveted as best drama series and of best leading actors in its category for Kit Harington and Emilia Clarke.
The HBO production that ended in May after eight successful seasons will have strong rivals in Better Call Saul, Bodyguard, Killing Eve, Ozark, Pose, Succession and This Is Us.
Likewise, the way to be chosen as the best drama actor will not be easy for Harrington, who faces the four-time nominee in the Bob Odenkirk category, as well as Jason Bateman Billy Porter, as well as Sterling K. Brown and Milo Ventimiglia, both from This Is Us.
HBO got the highest number of nominations, a record 137, for shows such as Sharp Objets, Game of Thrones, Veep, Chernobyl and Barry.
Netflix is ​​very close, with 117 nominations for its original productions such as Ozark, Dead to Me, House of Cards and Russian Doll.
In the long-awaited category of Best Limited Series, the acclaimed Chernobyl, When They See Us, Escape At Dannemora, Fosse / Verdon and Sharp Objects will face off.
As there is nothing as serious as comedy, the competition to be crowned as the king of this category also presents strong opponents. Last year's winner, The Marvelous Mrs. Maisel, achieved 20 nominations in this installment, but she will have to beat Fleabag and Russian Doll, two series adored by critics, as well as Veep, a show starring Julia Louis-Dreyfus that this year he presented his last season and already won six times for his role in Selina Meyer politics.
Louis-Dreyfus will compete for the statuette with also veteran Christina Applegate ("Dead to Me") in what is probably her best performance to date and Rachel Brosnahan ("The Marvelous Mrs. Maisel"), Natasha Lyonne ("Russian Doll "), Catherine O'Hara (" Schitt's Creek ") and Phoebe Waller-Bridge (" Fleabag "). None an easy rival.
The absence of Donald Glover ("Atlanta"), winner in 2018, opens the possibilities for it to be a close competition in the category of Best Comedy Actor. Experienced comedian Ted Danson ("The Good Place") will face the star of Michael Douglas ("The Kominsky Method"), as well as Eugene Levy ("Schitt's Creek"), Anthony Anderson ("Black-ish"), Don Cheadle ("Black Monday") and Bill Hader ("Barry").
A week before the award ceremony, the Academy of Television Arts and Sciences developed a ceremony to deliver the so-called "creative awards"; where Game of Thrones took 10 statuettes. On the other hand, the acclaimed HBO Chernobyl obtained 7 statuettes and The Marvelous Mrs. Maisel took six.
The Emmy Awards ceremony will be held at the Microsoft Theater in Los Angeles. Like the last Oscars, he will not have a presenter. They will be broadcast by TNT in Latin America. The broadcast will begin at 8 pm with the red carpet and then at 9 pm the ceremony will be live.
DRAMA
Better Call Saul
Bodyguard
game of Thrones
Killing Eve
Ozark
Pose
Succession
This Is Us
The specialized media agree that the dispute will be between the last and commented season of Game of Thrones and the first installment of Succession. The predictions point everything to the powerful Roy family or the Starks. If so, HBO – behind both productions – will be the big winner of the night against fictions such as Better Call Saul (Netflix), Bodyguard (BBC-Netflix), Killing Eve (BBC America), Ozark (Netflix), Pose ( FX) and This is Us (NBC).
COMEDY
Barry
Fleabag
The good place
The Marvelous Mrs. Maisel
Russian doll
Schitt's creek
Veep
The best comedy category is one of the most difficult to predict. Veep will face The Marvelous Mrs Maisel, who stayed with the big title last edition where Selina Meyer did not participate because she had not issued any season since her protagonist, Julia Louis-Dreyfus, was fighting cancer.
Barry, Russian Doll and The Good Place also appear in this list, but the specialized media has two favorites: Schitt's Creek and Fleabag. Veep can recover the crown in his last season, but The Marvelous Mrs Maisel can make it difficult. The tight fight would be between them, except that Phoebe Waller-Bridge's Fleabag, loved by critics, snatches the prize from them.

LIMITED SERIES
Chernobyl
Escape in Dannemora
Fosse / Verdon
Sharp objects
When They See Us
Another category where even the weakest candidate, Escape at Dannemora, is of excellence. Although HBO's Chernobyl could achieve a victory, the miniseries When They See Us by Ava DuVernay, with a thoughtful narrative about five children falsely accused of rape just for their race and masterful performances of a young and rookie cast in Hollywood, could be the winner . But there's also the grim drama Sharp Objects with director Jean-Marc Vallée and stars Amy Adams, Patricia Clarkson and Eliza Scanlen. Because of its complexity and exquisite plans, experts want Emmy to be for Sharp Objects, but they predict it will be for Chernobyl or When They See Us of Netflix.
MAIN ACTRESS IN DRAMA
Emilia Clarke, Game of Thrones
Jodie Eat, Killing Eve
Viola Davis, How to Get Away with Murder
Laura Linney, Ozark
Mandy Moore, This Is Us
Sandra Oh, Killing Eve
Robin Wright, House of Cards
In the last edition of the Emmy, Claire Foy won the award for Best Drama Actress for her starring role in The Crown. The double winner of the Golden Globe for Best Drama Actress, Sandra Oh, is presented to the 2019 Emmy as one of the favorites to win the title (for the first time in this award). However, his cast partner Jodie Comer ("Killing Eve") and Emilia Clarke ("Game of Thrones") will give him a hard battle.
Oh, who gained popularity after playing Dr. Cristina Yang in Grey's Anatomy, has another nomination for her special appearance on Saturday Night Live.
Clarke, who never won an Emmy for playing Daenerys Targaryen, faces a battle at the Night King level since the GoT writers did no favor in the final stretch.
The category is completed with 2015 winner Viola Davis in How to Get Away with Murder, former nominee Robin Wright for the final season of House of Cards (taking control of the show after Kevin Spacey's dismissal), Laura Linney for Ozark and Mandy Moore, with her first nomination for This Is Us. Apparently, it will be a fight between Clarke and Oh, and everything would indicate that the actress of South Korean descent will win the award after six nominations (including five for Grey's Anatomy).
MAIN ACTOR IN DRAMA
Jason Bateman, Ozark
Sterling K. Brown, This Is Us
Kit Harington, Game of Thrones
Bob Odenkirk, Better Call Saul
Billy Porter, Pose
Milo Ventimiglia, This Is Us
In the last version of the Emmy, Matthew Rhys won the award for Best Drama Actor for his work on The Americans. This year, the actor is out of competition, but Jason Bateman, Kit Harington (had only previously been nominated as a supporting actor), Bob Odenkirk and the duo of This Is Us, Sterling K. Brown and Milo Ventimiglia, appear in the payroll. Complete the Billy Porter list for Pose, the series about the New York drag scene in the 1980s.
The forgotten. Richard Madden took a Golden Globe for Bodyguard, but did not receive a nomination in this year's Emmy. On the other hand, the Television Academy chose Succession to compete as Best Drama Series, but not a single member of the excellent cast was nominated. Jeremy Strong, Brian Cox, Kieran Culkin, Sarah Snook, J. Smith-Cameron and Matthew Macfadyen were not taken into account. At least everyone can drown their sorrows until next year, when there won't be another HBO program that takes so many places in the dramatic category and the Academy will have to choose at least one Succession star.
For his work on the show created by Ryan Murphy, Porter arrives with his first nomination in a category in which Jason Bateman and Bob Odenkirk seem like the rivals to beat. K. Brown won the award two years ago, and has a chance to win again, but voters could choose to express their thanks to Harington for the many years of service as Jon Snow. However, many want it to be Bateman, who surprisingly never won an Emmy.
MAIN ACTOR IN COMEDY
Anthony Anderson, Black-ish
Don Cheadle, Black Monday
Ted Danson, The Good Place
Michael Douglas, The Kominsky Method
Bill Hader, Barry
Eugene Levy, Schitt's Creek
Choosing the Best Comedy Actor in the Emmy will not be easy. The winner of the last edition was Bill Hader for his role in Barry. This year, it appears again among the nominees. In the second place of the contest are Michael Douglas and Ted Danson. Of the two, it is perhaps Douglas who has more possibilities, but both actors have the sympathy of the voters. Don Cheadle for Black Monday has never managed to win, but this year could surprise.
MAIN ACTRESS IN COMEDY
Christina Applegate, Dead to Me
Rachel Brosnahan, The Marvelous Mrs. Maisel
Julia Louis-Dreyfus, Veep
Natasha Lyonne, Russian Doll
Catherine O'Hara, Schitt's Creek
Phoebe Waller-Bridge, Fleabag
The winner of the last edition of the Emmy, Rachel Brosnahan for The Marvelous Mrs. Maisel, is again nominated and the criticism has been favorable for Brosnham and her performance in the original Amazon Prime Video. On the other hand, Julia Louis-Dreyfus returned for her role in Veep, while Phoebe Waller-Bridge (the mind also behind Killing Eve, drama that has nine nominations) adds followers with Fleabag. Both appear as the strongest names to win the award ..
Remembered for playing Elaine in Seinfield, she currently assumes the character of Selina Meyer in Veep. Louis-Dreyfus already has six Emmy awards for his work on the HBO series. Christina Applegate ("Dead to me"), Rachel Brosnahan ("The Marvelous Mrs. Maisel") and Natasha Lyonne ("Russian Doll") are some of the actresses competing for the scepter, but the protagonist of Veep, the winner of The last edition and Waller-Bridge are the favorites.
MAIN ACTRESS IN A LIMITED SERIES OR FILM
Amy Adams, Sharp Objects
Patricia Arquette, Escape at Dannemora
Aunjanue Ellis, When They See Us
Joey King, The Act
Niecy Nash, When They See Us
Michelle Williams, Fosse / Verdon
Another difficult category, but most likely the fight is between Michelle Williams, Amy Adams and Patricia Arquette. With his great work under the orders of Ben Stiller in Escape at Dannemora, Arquette took the Golden Globe and probably got the Emmy. Williams and Adams can get in the way of the coronation of Arquette but everything indicates that it will be their night.
MAIN ACTOR IN A LIMITED SERIES OR FILM
Mahershala Ali, True Detective
Benicio del Toro, Escape at Dannemora
Hugh Grant, A Very English Scandal
Jared Harris, Chernobyl
Jharrel Jerome, When They See Us
Sam Rockwell, Fosse / Verdon
Experts believe that Mahershala Ali took the prize at the time he accepted the role. However, Sam Rockwell with his interpretation of choreographer Bob Fosse in Fosse / Verdon and Jared Harris with his heartbreaking final episode of Chernobyl would become his main rivals. Rookie Jharrel Jerome of When They See Us and Hugh Grant in A Very English Scandal are also worthy nominees.
DRAMA ACTOR
Jonathan Banks, Better Call Saul
Alfie Allen, Game of Thrones
Peter Dinklage, Game of Thrones
Chris Sullivan, This Is Us
Giancarlo Esposito, Better Call Saul
Nikolaj Coster-Waldau, Game of Thrones
Michael Kelly, House of Cards
With his Tyrion Lannister character, Peter Dinklage, he is still the best of Game of Thrones after all these years and could take another Emmy to his home but first he must beat his GoT teammates, Alfie Allen and Nikolaj Coster-Waldau.
DRAMA ACTRESS
Gwendoline Christie, Game of Thrones
Sophie Turner, Game of Thrones
Fiona Shaw, Killing Eve
Lena Headey, Game of Thrones
Maisie Williams, Game of Thrones
Julia Garner, Ozark
Gwendoline Christie, Sophie Turner, Maisie Williams, and Lena Headey, all of GoT, will compete against each other for an Emmy, while Garner of Ozark also has possibilities.
ACTRESS IN A COMEDY
Sarah Goldberg, Barry
Olivia Colman, Fleabag
Kate McKinnon, Saturday Night Live
Alex Borstein, The Marvelous Mrs. Maisel
Sian Clifford, Fleabag
Betty Gilpin, GLOW
Marin Hinkle, The Marvelous Mrs. Maisel
Anna Chlumsky, Veep
Everything would indicate that the Emmy will be for the British Olivia Colman, the recent Oscar winner for The Favorite. Betty Gilpin of GLOW, Alex Borstein and Marin Hinkle, both of The Marvelous Mrs. Maisel, are also listed as favorites in this category.
ACTOR IN A COMEDY
Stephen Root, Barry
Anthony Carrigan, Barry
Tony Shalhoub, The Marvelous Mrs. Maisel
Henry Winkler, Barry
Alan Arkin, The Kominsky Method
Tony Hale, Veep
Tony Shalhoub stands out from the list for his work on The Marvelous Mrs. Maisel, but opinions are divided. Stephen Root and Anthony Carrigan de Barry also have many adherents, as does the experienced Alan Arkin. Despite the doubts, most agree that the award will go to Shalhoub.