One of the most commendable and well known swimmer from the United States is none other than blazing fast Elizabeth Beisel. In the Summer Olympics of 2016 she secured the second rank in 400m individual medley. She took retirement from competitions in 2017. Currently, she is into commentary and exploring other interests of her life. Starting with the career at an age of 5, she has brought a lot of fame through her roaring will and hard work.
Career Life of Elizabeth Beisel
Beisel was born on August 18, 1992 in Saunderstown, Rhode Island. She was born to Ted and Joan Beisel. An interesting part about her parenting was the fact that her mother, Joan was also a swimmer for the University of Rhode Island. Elizabeth graduated from North Kingston High School in 2010. At the age of 12 she was training under the assistance of Chuck Batchelor at Bluefish Swim Club. The dedication and skills of Beisel caught the attention of the national team selectors. At the age of 13 she entered the U.S. National Team. She still recalls it as the best moment in her life till date.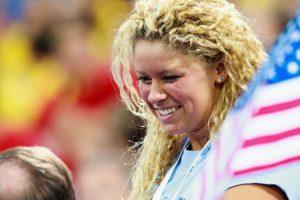 Achievements of Elizabeth Beisel
When she was 14 years old she took part in the first Olympics of her life. Beisel competed in 200m backstoke. Holding the 12th position, it was the most surreal experience of her life. She took part in various competition in consecutive years. She has banked 9 medals in major international competitions. With four gold, one silver and 4 bronze medals in the Pan Paciffic championship, World Aquatics and the Olympics, she has commendable personal records. The all-time best timing of 2:06.18 in 200m backstroke was registered in the year 2012 by her. In the same year she made her 400 m individual medley record timing of 4:31.27.
Personal Interests of Elizabeth Beisel
Elizabeth likes to maintain a healthy diet. Currently she aspires to become a popular sports commentator which was her dream job in childhood. She is so hard working that once in 2016 she did injure her finger while practising in excess. Back in 2015 she was dating Nick Alexiou but currently there are no cupid's arrows around her.
Beisel is very active on social media, especially twitter. Click on the image to check out her twitter account. She is a travel enthusiast. In the first few interviews after her retirement she did reveal that the first thing in her bucket list is travelling. Very few people know that she is a violin player as well. It will be very interesting to see someone like her hustle in the Survivors.
The brewing rumours of her participation in the reality show Survivors has been confirmed. She is not the first swimmer to take part in the Survivor reality TV show. In the past there have been several great swimmers participating in the show. Season 27 winner Tyson Apostol was a Division I swimmer who won the season winner.