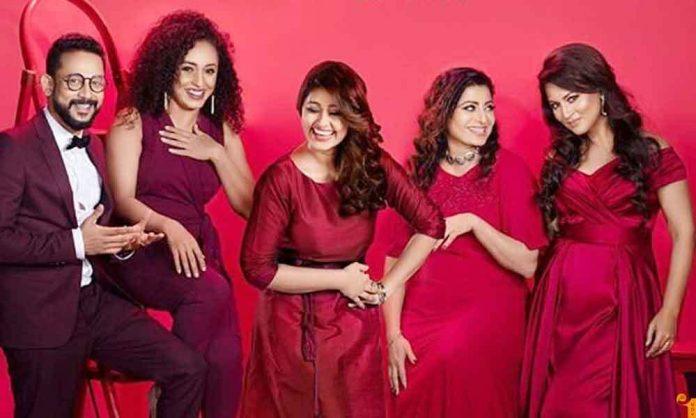 Dance Jodi Dance is Tamil Dance Competition Reality Show. The show premiered on 16th November on Zee Tamil. Show gets broadcasted on Saturday and Sunday at 6:30pm. Show is hosted by Deepak Dinkar and Pearle Maaney. Judges of this show are Actress Sneha, Priya Raman and Pooja Umashankar.




Dance Jodi Dance 3.0 – Who Are the Contestants Performing In This Season?
Iraa Agarwal
She is an actress who works in the serial, Raajamagal on Zee Tamil.
Nachathira
She is an actress who works in the serial, Yaaradi Nee Mohini on Zee Tamil.
Koli Ramya
She is an actress who works in the serial, Sathya on Zee Tamil.
Anandhi
She is an actress who has acted in Tamil and Telugu films. She received critical acclaim for her role in her debut movie Bus Stop (2012).
Tejashree
She is an Indian film actress who had worked more in Tamil films. She has also done films in Telugu, Kannada, Gujarati and Marathi. Tejashree is a trained Kathak dancer, trained by her father Master Jaikumar Khele.  Maharashtrian by birth, but can speak Tamil fluently. She has also appeared in many commercial endorsements.
Ragasya
Ragasya is an actress, runway model and a theatre artist. She is a trained Kathak dancer from Guru Viru Maharaj, Habiba and Saroj Khan. She learned Hip Hop under Ganesh Hegde and has learned Salsa under Sandeep Soparkar.
Venkat
He is a popular Tamil Serial actor who started hic career through popular serial Annamalai.
Arunima
Mohan
Kajol Mukherjee
Satish
Vivek Rajgopal
He is an actor and a director. He is known for his movies, En Iniya Pon Nilave, Oru Modhal Oru Kadhal and Echarikkai.
Shivaji
He is a Tamil actor.
Vinoth Kishan
Vinoth is a film actor who has worked in Tamil, Telugu and Malayalam films. He made his debut as a child artist in Bala's Nandha . Later in his career, played a villain in Naan Mahaan Alla and Vidiyum Munn.
Dance Jodi Dance 3.0 1st December Episode Update:  Who were the best performers?
Ragasiya and her partner Arockiraj enter the competition with a fabulous performance.
Nayana and Vinoth Kishan performly superbly on the song 'Hai Rama'
Sarath and Actor Anandhi's performance leaves the judges spellbound.
Who are your favorite contestants in Dance Jodi Dance 3.0? Let us know in the comments below.