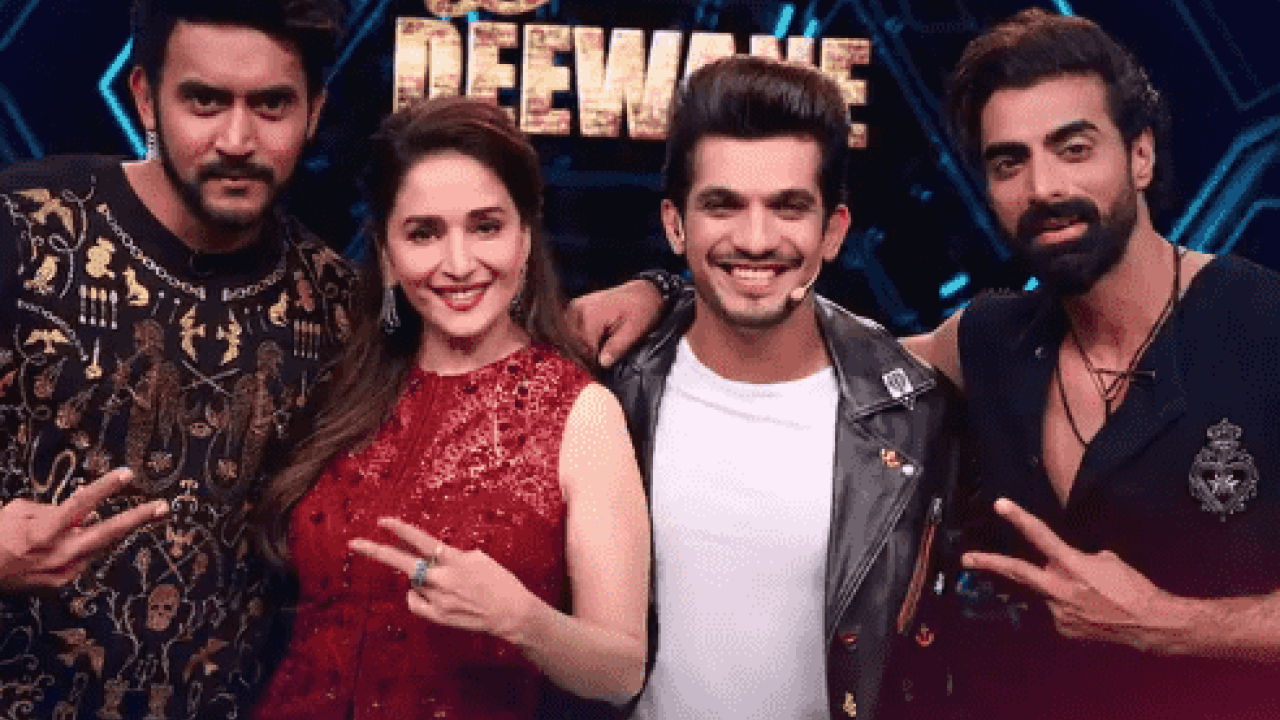 Dance Deewane 2 Finale is being aired on Colors Tv now and the fans of the show are eagerly waiting for the performance of contestants like Mehul Mehta, Sneha, Paramdeep Singh, Vishal Sonkar, Om Shubham Mahapatra, Twisha and Vihan. Also there are a lot of performances from celebrities like Salman Khan, Priyanka Chopra, Madhuri Dixit and Farhaan Akthar. We will be covering this event live for the Dance Deewane 2 finals voting as we as announce who the winners of this show are.




The judges and Priyanka are impressed by finalist Om Subham Mohapatra from 1st generation who danced on "Sadda Haq" from Ranbir Kapoor starrer Rockstar.
Vishal Sonkar from the second generation is on the stage for his grand finale performance. He performs on "Yeh Honsla" from Dor and Iqbal's hit track "Aashayein".
Priyanka Chopra comes on stage, Vishal goes down on one knee and recites poetry
Sneha Adapawar from 3rd generation is on the stage. She performs on "Muhabbat Buri Bimari" from Bombay Velvet. All the judges are impressed with her performance.
Vihan Trivedi and Tweesha Patel perform on "Lungi Dance" from Chennai Express, "Chogada" from Loveyatri and "Tamma Tamma" from Badrinath Ki Dulhania. The little ones get a standing ovation from the judges and studio audience.
Next finalist to perform is Paramdeep Singh from the second generation. He performs on "Vashmalle" from Thugs of Hindostan and "Khalli Balli" from Padmaavat.
The winner of generation three is Mehul Mehta. The winner of generation two is Vishal Sonkar. Vihan Trivedi and Tweesha Patel are declared winners of generation one.


Who is leading in Dance Deewane 2 Finale Vote?

As of now Vishal Sonkar and Paramdeep Singh are leading the votes but Om Shubham Mahapatra is a fan favourite. We will keep the event covered live here at our page. Stay tuned!!

#madhuridixitnene #DanceDeewane2 #arjunbijlani #shashankkhaitan #tusharkalia @MadhuriDixit @TheTusharKalia@Thearjunbijlani @ShashankKhaitan pic.twitter.com/ixQdVjTGhA

— Madhuri my inspiration (@madhuri_forever) September 28, 2019


Dance Deewane 2, one of TV's superhit shows, entertained the audience a lot in the second season as well. Bollywood's celebrated actress Madhuri Dixit appears as a judge on the show and the finale episode of the show is also to be telecast tonight. Priyanka Chopra is going to be seen as a special guest in the finale episode of this show.

omg priyanka chopra jonas & madhuri dixit nene perform for DESI GIRL. THE POWER THAT HAS. awwe mads knows the choreo of desi girl. im crying.. #DanceDeewane2 #DD2Finale
pic.twitter.com/aY1HgkvTJe

— vish ♡ the sky is pink (@yasiruvismini_) September 28, 2019


Priyanka will also be promoting her new film The Sky Is Pink during the finale episode of this show. The special thing is that Salman Khan will also be seen on this show. It is heard that Salman Khan has also announced the name of the winner on this show.

The winner of the show has already been leaked before the show finale episode is on air. Yes, Vishal Sonkar is the winner of this season if media reports are coming out. Vishal Sonkar is from Jamshedpur and is only 23 years old. Vishal has been a passionate dancer since the very beginning. He has played a lot of papad to come on this stage. In fact, Vishal was not getting financial help from his family to make a career in this field. To fulfill his dream, Vishal hired a delivery boy and raised money to pursue a career in dance. In addition to Madhuri Dixit on this show, well-known director Shashank Khaitan is also seen as a judge and during one episode he promised to help Vishal financially.

In sab mein jeetne ka jazba hai, par kaun hoga inme se dance ki deewangi ka champion? Tune in now to witness the #DanceDeewane2 grand finale.#PriyankaonDanceDeewane #DD2Finale

Anytime on @justvoot@priyankachopra @MadhuriDixit @Thearjunbijlani @TheTusharKalia @ShashankKhaitan pic.twitter.com/q8U7FdWwMt

— COLORS (@ColorsTV) September 28, 2019


Talking about the show's finalists, apart from Vishal Sonkar, Om Shubham Mahapatra, Twisha Patel, Vihaan Trivedi, Paramdeep Singh, Vishal Sonkar, Mehul Mehta and Sneha Adapwar were in this list.