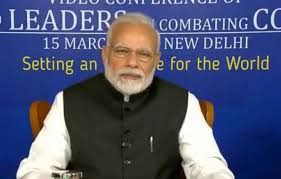 CoronaVirus is ripping apart the economy and normal livelihood of millions across the globe. Hugely populous India is beginning to face the brunt of Level 2 and 3 transmission of the virus in the country. There has been a significant surge in the total count which mounts to 325, including six deaths. The major regions affected are Kerala, Karnataka, Maharashtra, Delhi NCR Region and Rajasthan.
The Centre and state governments have decided to announce lockdown in 75 districts across the country where positive cases of coronavirus have been found. The government has also decided to suspended all inter-state bus services till March 31, officials said on Sunday.
This decision was taken at a high-level meeting held this morning with Chief Secretaries of all the States by the Cabinet Secretary and the Principal Secretary to the Prime Minister.
List of Districts Facing Lockdown in Karnataka
Bengaluru (Rural and Urban)
Mangaluru
Mysuru
Kalaburagi
Dharwad
Kodagu
Belagavi
Restrictions Imposed during Lockdown in Bengaluru, Kodagu and Other Districts
Essential produce like milk, vegetables, groceries will be available.
Healthcare services, ambulances, emergency helplines will function.
Municipality and corporation staff will continue with their duties.
Bankers will continue to work but with limited strength.
Railway services will be stopped until the 31st of March.
Transportation services like metros, buses might not function (awaiting further clarification on this from the government sources) As of now, public transportation will be curtailed.
Interstate public transportation will be suspended. Essential cargo and trade will continue.
No KSRTC services till March 31st.
– No person can do hunger-strike, without the permission of any competent authority.
– It is not imposed on examinees, marriage ceremonies, cremation and religious festivals.
– No person can walk with any sort of tool, or any type of fatal weapon, firearms etc.
– Even to carry licensed weapons are not allowed at the office.
– It also prevents playing or selling firecrackers.
– Even speech or advertisement that hurts the feelings of any community-culture is also prohibited.
– There is a restriction on the use of loudspeakers, DJs without prior permission.
– Five or more people cannot be assembled at a distance of two hundred yards from the examination centre.