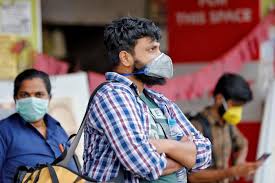 CoronaVirus is ripping apart the economy and normal livelihood of millions across the globe. Hugely populous India is beginning to face the brunt of Level 2 and 3 transmission of the virus in the country. There has been a significant surge in the total count which mounts to 3053, including 84 deaths. The major regions affected are Kerala, Karnataka, Tamil Nadu, Maharashtra, Delhi NCR Region and Rajasthan.
As the results of the lockdown began to show, the spread of coronavirus cases was clamped to a considerably manageable number with no major community spread. Most of the new cases were with known travel history or contacts of already positive patients.
However, the spurt in the number of cases converting from the Nizamuddin Markaz event in Delhi is sending jitters across the country. Tamil Nadu has seen the biggest increase of more than 270+ cases in three days from patients who visited the event which was an illegally conducted event.
Muslim Fruit Vendor Sends Ripples Across India With His Disgusting Fruit Licking Video on TikTok!
As the nation faces a stiff battle to contain coronavirus, the spurt in the number of cases seems to be creating a panic across the society. Adding to the obstacles, people from a certain community are resisting all curbs and regulations, pelting stones on healthcare workers, spitting on police and creating ruckus to the prevention and quarantine efforts.




Earlier today, a Muslim man from an unknown location in India was captured in a video on Tiktok which created a viral frustration against him. He was seen wiping his saliva onto the fruits which he was selling in his cart.
What is this Bhai?
By the way he isn't from Cursed #TabhleegiJamaat
He is just a common man
I am sure most of his customers could be Hindus and conspiracies to kill his Customers
The height of #Kaminaoan Bhai
There is one caught in Bangkok in cctv camera how many more zombies pic.twitter.com/ECyigA0cVj

— Sammie (@Samjudit) April 3, 2020
Should Tik Tok be Banned in India?
While reports suggest the man has been arrested, there are several such videos which encourage people to not wear masks or follow social distancing on TikTok and other social media. When a massive country with 1.3 billion is fighting such a medical war, it is the responsibility of the citizens to support it in every possible way. However, social media sites and apps like Tik Tok are proving to be a menace during these tough times.