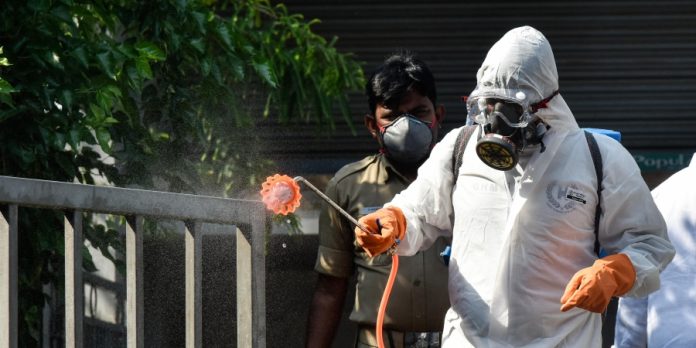 CoronaVirus is ripping apart the economy and normal livelihood of millions across the globe. Hugely populous India is beginning to face the brunt of Level 2 and 3 transmission of the virus in the country. There has been a significant surge in the total count which mounts to 4684, including 129 deaths on 6th April 2020. The major regions affected are Kerala, TN, Karnataka, Maharashtra, Delhi NCR Region and Rajasthan.




CoronaVirus Chennai Live Updates 6th April 2020 :Doctor Tests Positive in Public Health Center?
The News Crunch dug deep into one of the Whatsapp forwards which was making its rounds earlier today. The message alerted the residents of West Mambalam, Chennai and mentioned about a lockdown in the entire road called Lake View Road .
The news came out after a popular local general physician in the area.
There is a doctor, Dr. Arulvel who is isolated and treatment is in progress in Public Health Center, Lake View Road.he has been working in the Public Health Center since 16.03.2020, and 26 people have been treated at the time.
A total of 36 persons have been identified as 5 members of their family and 5 from their outside contact, and they have been informed through the Coronavirus helpline for Chennai of the health department to immediately inform them of any illness.
 Chennai Coronavirus count Today – April 6th
As of yesterday, the total cases of coronavirus positive patients was 98. However, there seems to be a surge in the counts today. 15 more patients is added to the tally today. The total coronavirus cases in Chennai is at 113.
Most of  the coronavirus positive cases are cases who visited the Nizamuddin Markaz event in Delhi. They have viciously managed to spread the disease and blow up the tally of Tamil Nadu which was one of the best contained states for coronavirus in the country.
Tamilnadu coronavirus News Updates: Lack of Information Causing Anxiety Among People
Unlike other states, the health department in Tamilnadu is not revealing all the required information needed for people to get an idea about the spread of coronavirus in their neighborhood.
Journalists and responsible citizens across the state are pushing the Health Minister, C Vijayabaskar to reveal the patient flow chart like Karnataka and Kerala. This helps in revealing the whereabouts of the patient before testing positive.
There has been no updates from regarding the total count from Tabhleegi Jamaat returned people in today's increase in count of 50.
Tamilnadu Government Launches WhatsApp Chatbot for Covid-19 Related Guidance and Queries
The Government of Tamil Nadu took the digital route to sensitize people on the precautionary measures and issues related to Coronavirus. 91-9035-766-766 is the number for getting queries answered and guidance in English and Tamil.
Tamilnadu coronavirus count Today – April 6th
Total Patients With Coronavirus Positive : 621
Total Patients Discharged : 8
Total Patients Dead : 5