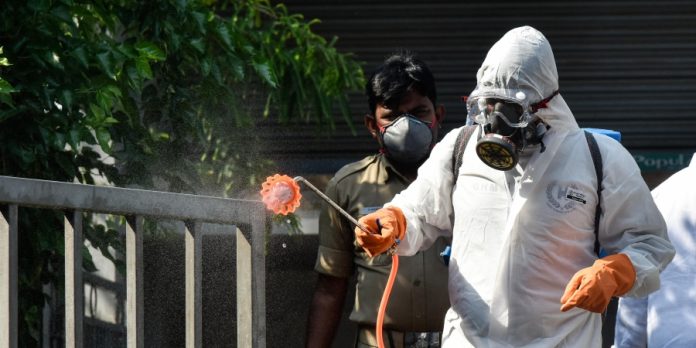 CoronaVirus is ripping apart the economy and normal livelihood of millions across the globe. Hugely populous India is beginning to face the brunt of Level 2 and 3 transmission of the virus in the country. There has been a significant surge in the total count which mounts to 3787, including 107 deaths. The major regions affected are Kerala, Karnataka, Tamil Nadu, Maharashtra, Delhi NCR Region and Rajasthan.
As the results of the lockdown began to show, the spread of coronavirus cases was clamped to a considerably manageable number with no major community spread. Most of the new cases were with known travel history or contacts of already positive patients.
However, the spurt in the number of cases converting from the Nizamuddin Markaz event in Delhi is sending jitters across the country. Tamil Nadu has seen the biggest increase of more than 370+ cases in the last few days from patients who visited the event which was an illegally conducted event.
After Tableegi Jamaat Pastor from Rayavaram Sends Jitters Across AP!
As the nation faces a stiff battle to contain coronavirus, the spurt in the number of cases seems to be creating a panic across the society. Adding to the obstacles, people from a certain community are resisting all curbs and regulations, pelting stones on healthcare workers, spitting on police and creating ruckus to the prevention and quarantine efforts.




Earlier today, a Pastor from Rayavaram was captured in a video which revealed that he ignored the lockdown and led a prayer meeting with a gathering of more than 140 people. The East Godavari district health officials and police were alerted by the locals.
A pastor arrested in Rayavaram, East Godavari district, #AndhraPradesh. Ignoring lockdown, he was holding a prayer meeting with about 150 ppl. Locals alerted the police. #COVIDIOTS #Covid_19 pic.twitter.com/VIvwS3m7pt

— Revathi (@revathitweets) April 5, 2020
Coronavirus Andhra Pradesh Total Count Live Today
Andhra Pradesh witnessed a surge in the total number of cases after the Tabhleegi Jamaat event. East Godavari district, where the prayer meeting was held by the pastor has 11 cases already. The total count in Andhra Pradesh stands at 192 with 2 recoveries and 1 death. Nellore is the worst affected district with a total of 32 coronavirus positive patients followed by Guntur with 30.