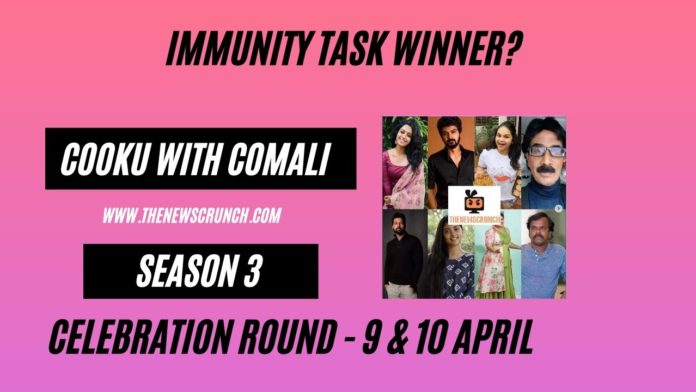 'Cooku With Comali Season 3' returns this week with a glittery celebration 'Immunity Round' on the 9th and 10th April 2022 as the contestants face the immunity challenge this week. 'Cooku With Comali Season 3' featured the fourth elimination challenge last weekend. However, no elimination took place last week. The immunity band tasks this week will save the cook from the fourth elimination next week.
The 'Immunity challenge' round resulted in massive success for Grace and Manimegalai with Ammu Abirami. Ammu stunned the judges and audience with her finesse and creativity. However, the fourth elimination of Cook With Comali Season 3 is a suspense and will go down to the wire. Santosh and Vidyuleka are the bottom 2 contestants so far.
'Cooku With Comali Season 3' 9th & 10th April Episodes – Pairing List
Ammu and Manimegalai
Grace and Adirchi Arul
Shrutika and Shivangi
Vidyulekha and Bala
Roshini and Barath
Tharshan and Shakti
Santosh and Sunitha
'Cooku With Comali Season 3 Advantage Task Winner
Vidyulekha and Bala are the advantage task winners after winning the second advantage task. Bala proved his might in advantage tasks yet again.
'Cooku With Comali Season 3 Immunity Task Winner
won the immunity task after winning the first immunity challenge and winning the hearts of the judges. However, Shruthika did not end up in the top 2 for the second challenge in the immunity task this week. Vidyulekha, Santosh bowed out after the first challenge.
The top 4 contestants in the 'TV challenge' are:
Roshini
Ammu Abirami
Dharshan
Grace
Dharshan impressed with a caramel chocolate based dish. Hence, Dharshan and Shakti won the challenge.
'Cooku With Comali Season 3' Elimination List
No elimination took place last weekend after Santosh and Roshini entered the bottom two. Antony Das was the third elimination of 'Cooku With Comali Season 3' two weeks ago. However, no eliminations in 'Cooku With Comali Season 3' this week.
'Cooku With Comali Season 3' Fourth Elimination
There are high chances of Roshini or Santosh getting eliminated in the next week. Roshini, Santosh and Shruthika entered the bottom 3 for the elimination challenge based on past performances. However, one of them will be eliminated at the end of Sunday's episode.
Cooku With Comali 3 Elimination List
Rahul Thatha
Manobala
Antony Das