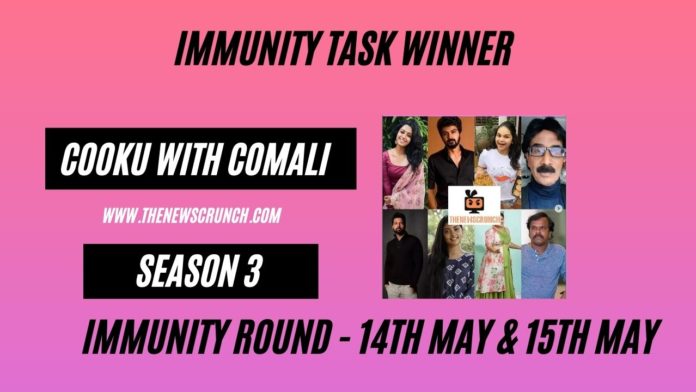 'Cooku With Comali Season 3' is back this week with a hilarious 'Immunity task' for the fifth elimination on the 14th and 15th of May 2022 as the contestants face the immunity challenge this week. 'Cooku With Comali Season 3' featured the no elimination three weeks ago. However, last week's immunity task concluded without any winner because of poor performances.
The 'Advantage task' round will be crucial the cooks. Two wildcard entries entered the show last week. Cook With Comali 3 features the fifth elimination next week. However, the competition is tough and worth watching. The fifth elimination of Cook With Comali Season 3 is a suspense and will go down to the wire. The wildcard entries and Ammu Abirami are the bottom 3 contestants so far.
'Cooku With Comali Season 3' 14th May & 15th May Episodes – Pairing List
Ammu and Sunitha
Grace and Sheetal
Shrutika and Shivangi
Vidyulekha and Adirchi Arul
Roshini and Barath
Chutty Aravind and Manimegalai
Tharshan and Bala
Muthukumar and Kureshi
'Cooku With Comali Season 3 Advantage Task Winner
The first advantage task featured making the most amount of ice golas. These four teams won the first task of the advantage task. Unfortunately, Ammu and Shruthika lost the first round.
Arvind
Tharshan
Vidyulekha
Muthukumar
Tharshan and Bala won the advantage task. However, Vidyulekha and Arul reached quite close to the winners.
'Cooku With Comali Season 3 Elimination Challenge
Ammu was in the bottom two for elimination last week. Elimination challenge will feature an intense battle next week. However, the immunity task winner will get a crucial advantage next week.
Dharshan and Grace stole the immunity round cooking with excellent dishes. However, Aravind and Ammu Abirami entered the bottom two and it was an emotional suspense. There will be no elimination this week. Santosh is eliminated for Cook With Comali 3 two weeks ago.
'Cooku With Comali Season 3' Wildcard Entry
Chutty Aravind
Muthukumar
'Cooku With Comali Season 3' Elimination List
Santosh was the fourth elimination of 'Cooku With Comali Season 3' last week. However, fifth elimination in 'Cooku With Comali Season 3' will be updated soon.
'Cooku With Comali Season 3' Fifth Elimination
There are high chances of Roshini or Ammu getting eliminated in the next week. Mano Bala, Rahul and Antony are the three eliminations in CWC Season 3 so far.
Cooku With Comali 3 Elimination List
Rahul Thatha
Manobala
Antony Das
Santosh