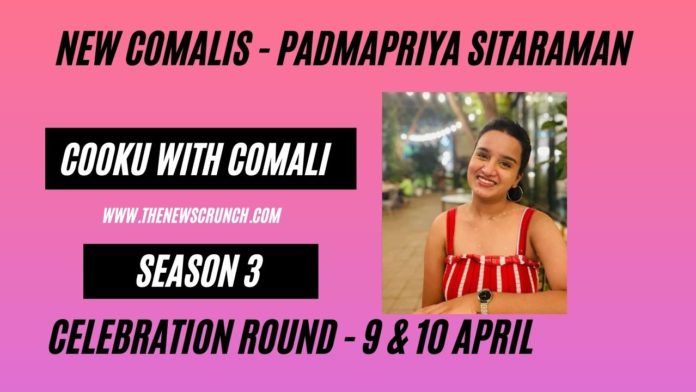 Vijay TV's scintillating and hilarious reality show, 'Cooku With Comali Season 3' is off to a riveting start after a massive TRP boost. The hilarious cooking cum reality show features celebrity cooks and 'comalis' (comedians). However, 'Cooku With Comali Season 3' conducted an audition for finding new comalis from 'Neengalum Aagalam Comali' contest.
Three new 'Comalis' are launched in 'Cooku With Comali Season 3' in this weekend's immunity challenge episodes. Priya Sitaraman, Dhiyaneshwaran and Raj Priyan entered the 'Cooku With Comali Season 3' stage which is a dream come true for aspiring stars and comedians.
Who is Priya (Padmapriya) Sitaraman ? – 'Cooku With Comali Season 3' New Comali
Priya Sitaraman did not get a massive screen time in her first episode of 'Cooku With Comali Season 3' which happened on 9th of April 2022. However, she managed to steal the hearts of the audience with her similarities to Shivangi , the charismatic Comali cum singer.
Padmapriya Sitaraman also amazed the audience with her scintillating singing skills by singing a song with Barath. However, the question 'Who is Priya CWC3 new comali?' lurks in the minds of the audience.
Priya Sitaraman is popularly called as 'Kutty Shivangi' after her brief stint in CWC3 this week.
Priya Sitaraman is an ex-air hostess (cabin crew) who worked for Indigo 6E.
Priya is a talented singer and runs her own band.
Priya has an elder sister named Madhuri. The two sisters are quite active on Instagram with their reels and other content.
Padmapriya has performed in some of the recent events like Bheemla Nayak pre-release event.
Padmapriya's mother tongue is Telugu which explains her different Tamil accent.
Padmapriya has more than 5K followers on Instagram and it is expected to grow by leaps and bounds considering the presence which Cooku With Comali 3 has.