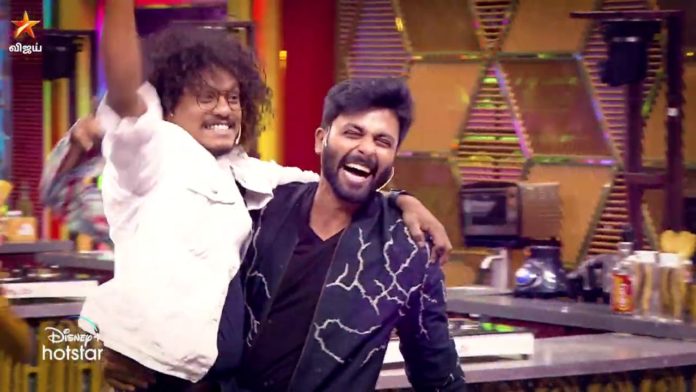 The hilarious cooking reality show, Cooku With Comali Season 2 is back this weekend with some exciting tasks. After a relieving 'no elimination' week last weekend, Cooku With Comali 2 will spice up things for the top 5 contestants with the introduction of a wildcard entry. It will be interesting to see who will win the immunity this Saturday.
The introduction of the wildcard entry brings up smiles as well as anxiety for the contestants of Cooku With Comali 2. The judges Dhamu and Venkatesh Bhatt seem to have a very light hearted approach this season. Pugal and Shivangi continue to be the highlight among the 'Comalis'.
There will be a major twist in the choice of 'Comalis' for the contestants. To the delight of the audience and Ashwin himself, he gets paired with Pugal. Shivangi pairs up with Pavitra this weekend. Sunita pairs up with Kani and they are struggling to perform in sync with each other. Balaji is paired with the wildcard entrant.
The highlight of this episode will be Pugal's gimmicks with Ashwin and his rants with Chef Venkatesh Bhat. The contestants will be competing against each other in a 'mixture challenge' and the contestant with the most amount of mixture ingredients will win the task.
There will be several twists in the upcoming task. Right from balancing pots on their heads to frog walking to the store room to get supplies, the Comalis struggle a lot. However, this weekend's episode look promising for a laugh riot filled weekend.