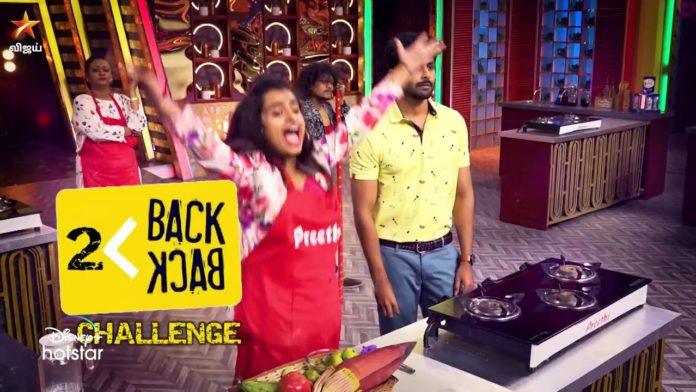 The popular cooking cum comedy reality show, 'Cooku with Comali' Season 2 is back with yet another rib-tickling episode. The audience is eagerly awaiting to watch Saturday's episode to find the immunity task winner. Also, Ashwin and Shivangi will be performing the task together which guarantees more fun and drama this week.
'Cooku with Comali' Season 2 23rd Episode Task Highlights: Who Will Win Immunity?
With just five contestants and 'Comalis' in contention, the competition for immunity heats up. Consistent performer Ashwin was pulled down by Shivangi's antiques in the tasks last week. However, Ashwin challenged the judge's statements and promised to give a better performance with Shivangi as his partner.
The first task of this week in 'Cooku with Comali' Season 2 will feature the 'back to back' task. There were hilarious moments where Pugazh was tied with Shakila and he was thinking about his last season's moments with Ramya Pandian.
Shivangi is super excited to be tied up with Ashwin but we can the struggles Ashwin is going through to perform this challenging task. However, Shivangi enjoyed her time this week. The other heartthrob of the show, Pavithra was seen having a lot of fun without any tasks to do.
The immunity task involved the teams choosing one 'Star Vijay show' to chose the type of taste their dish should possess. Ashwin's team performed with a sweet dish, Pugazh's team got bitterness and the battle began.
Ashwin and Shivangi were favorites to win the immunity task this week.