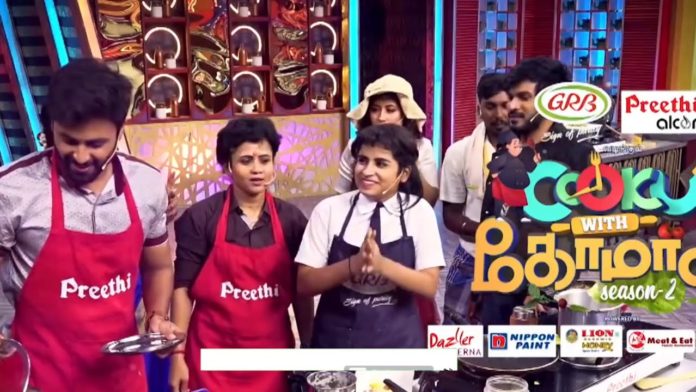 'Cooku With Comali 2' is back this weekend with fun-filled episodes to add humor to the audience's lives. Star Vijay's superhit cooking cum comedy reality show, 'Cooku With Comali 2' will feature two rib tickling episodes along with an elimination this weekend. Wildcard Rithika is settling down while the contestants grapple to get saved in Saturday's task.
Kani won the immunity band last week. Hence, Kani is safe from the elimination tasks. As a result, Sarath will be relieved of his duties this weekend. The promo updates for 'Cooku With Comali 2' episodes on February 20th and 21st received an astounding response from the fans of this show.
'Cooku With Comali 2' 20th Episode Task Highlights and Elimination Updates
'Cooku With Comali 2' episode on Saturday will be critical for the cooks as they try to be the best in this weekend's tasks. The cooks followed an innovative way to choose their 'Comalis' this week. The 'Comalis' were dressed as famous characters from Tamil movies. Pugal is dressed as 'Maari' played by Dhanush. Shivangi is dressed like a schoolgirl played by Samatha in Nee Thane Yen Pon Vasantham.
Balaji is dressed as Raghuvaran from the famous movie 'Mudhalvan'. However, the fun element is at max as the tasks are fun filled. The pairing of 'Cooks' with 'Comalis' is as follows:
Balaji continues to be paired with his beau from the show, Rithika
Manimegalai is paired with Ashwin after a longtime.
Pugazh is paired with Baba Bhaskar and the duo looks entertaining.
Kani and Sarath are taking a break this week.
Shivangi is paired with Pavi and the duo might put Pavi at risk.
Sunitha is paired with Shakila
The first task of the weekend in 'Cooku with Comali 2' is a 'Choppu Saaman' task. It involves cute miniature vessels and the contestants will cook dosa and omlette in the same. Rithika and Balaji share a fun filled moment as Balaji puts a rock solid performance.
However, the elimination suspense continues for Sunday's episode. According to reports, Pavithra will be eliminated this week.