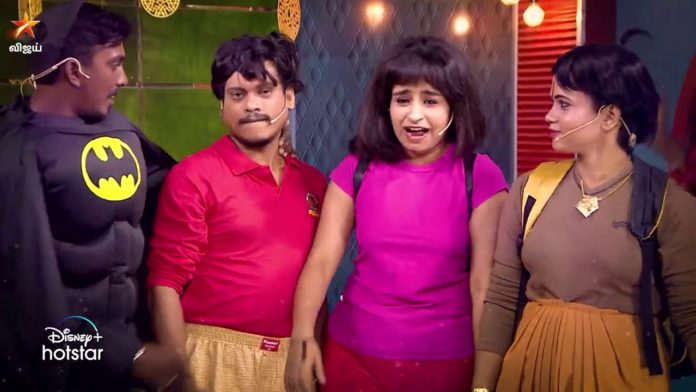 Star Vijay's hilarious cooking cum comedy reality show, 'Cooku With Comali 2' will be back this weekend. With yet another rib tickling weekend ahead, Cooku With Comali 2 will feature a Valentine's Day special episode. Saturday's episode will feature some special tasks as the contestants and Comalis grapple for immunity. With the entry of a wildcard entrant, the competition gets tougher.
The fun element fails to die down as the 'Comalis' continue to entertain the masses on a large scale. In this season of Cooku With Comali, the judges too loosened their chin and seem to be enjoying the show. The love sequence between Ashwin and Shivangi is a treat to watch. Also, Sunitha's one liners for Ashwin seems to be stealing the thunder from Shivangi.
Pugal continues to humorously root for Pavi's heart. However, this Valentine's day special episode will be a treat to watch for the audience as the love sequence will take precedence. With intense tasks, Pugal and Shivangi will continue to use the Valentine's day special episode to flirt with their beloved cooks.
According to the promo released by Star Viay, Sarath is dressed as a Batman, Pugal and Shivangi are dressed with funny costumes. While the audience expected Shivangi to propose to Ashwin, Sunitha took the love bouquet from Ashwin. We expect some interesting twist as the promo will not cover the major highlights or suspenses in the episode.
Featured Image and Promo Courtesy: Hotstar