It is a known fact that the show 'Cook with Comali' airing on Vijay TV is getting a huge reception. 'Cook with Comali season 3' has been well-received and is currently gaining popularity among many people.
Based on the popularity of the show at this stage, it is known that Pugazh currently has the opportunity to act in a few movies.
New car pic.twitter.com/68cgQRvtTb

— Pugazh (@pugazh_iam) March 1, 2021

Pugazh has posted a message with a photo on his social media page that he currently bought a new car. Pugazh shared a photo of himself with the car keys from a Hyundai showroom. Notably, Vijay TV Anchor Ma Ka Pa was present.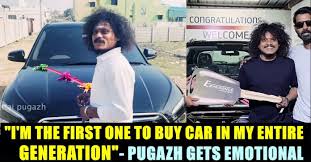 Fans are heaping congratulations on Pugazh; as he came to Chennai in a very poor condition, he has gradually showcased his talent and has now progressed to the point of buying a car.