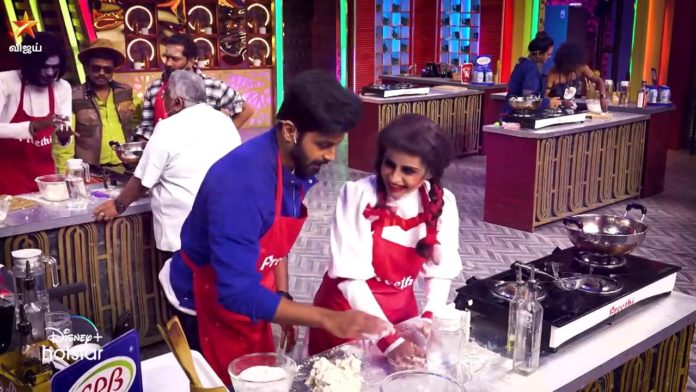 'Cooku With Comali 2' is back this weekend with a couple of hilarious episodes. The episodes on the 6th and 7th March 2021 will feature some entertaining advantage tasks. The elimination task will take place in the subsequent episodes as the cooking cum comedy reality show approaches the finale.
'Cooku With Comali 2' was extended by three weeks after a rousing response from the audience. The promos released on Wednesday look promising as the fans of 'Cooku With Comali 2' expect yet another weekend filled with amazing performances by Pugal, Balaji, and Shivangi.
'Cooku With Comali 2' 6th March Episode Task Highlights and Elimination Updates
'Cooku With Comali 2' reaches a decisive phase as the cooks grapple to enter the finals. However, the suspense around the elimination lurks around. Hence, the cooks will attempt to cook well and equally look entertaining in the upcoming week.
The decisive advantage task for the immunity round will take place on Saturday's episode. The 'Comalis' are dressed in ghost characters from different movies. However, the highlight of the weekend will be Shivangi dressed as Annabelle.
Another interesting aspect of this weekend will be the epic pairings. Shivangi is paired with Ashwin and Bala is paired with Baba Bhaskar. However, Shakila gets the opportunity to work with Pugal.
Kani and Manimegalai are paired together. The first advantage task is a very hilarious task which will involve some rib tickling comedy. The 'Comalis' have to filter the atta from the sieve which is placed on their heads. However, the twist to get more atta is that they need to produce a new punchline every time.
The race to win the advantage task intensifies. However, Shivangi steals the show with her cheesy, cute moments with her heartthrob Ashwin.
'Cooku With Comali 2' Elimination Updates
Pavitra's absence will be a major disappointment for her fans in the show. However, her absence is compensated by hilarious performances by the rest of the cooks. Wildcard entry Rithika was the last elimination of the show. However, the next elimination could be Pavithra if she returns next week. Kani won the celebration week and hence, she has the potential to enter the finals.