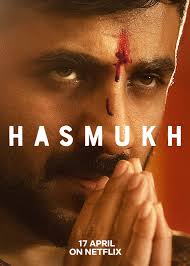 Hasmukh is the next Netflix original series to be released on April 17th 2020. The show has been co-created, co-written and stars stand up comedian Vir Das in the lead. Hasmukh follows a country bumpkin comic Hasmukh Sudiya (Das) from Saharanpur who dreams of becoming the greatest comedian in the world. Unfortunately, he lacks comic timing which is what comedy is all about. The twist is that all that changes when he murders his mentor and performs a lot better on stage, and discovers that the only way he can sustain that level is to keep killing. Thus begins his tryst with murders. Das co-created Hasmukh with Nikkhil Advani  and co-wrote with Advani, Nikhil Gonsalves , Suparn Verma , Amogh Ranadive , and lyricist Neeraj Pandey. Nikhil Gonsalves is also the director. Hasmukh is produced by Emmay Entertainment for Applause Entertainment. In a statement Das said, "Performing in front of a live audience is extremely different from being in a fictional film or series. I'm back on screen playing a strange and unusual character, so I'm excited. He's super awkward, soft spoken, always mild, until he murders or gets on stage. Stand-up comedians will relate to Hasmukh's journey… well, most of it at least. We're all looking for innovative ways to make people laugh, but this guy takes it to the next level. The trailer should give you a sneak peek into what I'm talking about, but just wait and watch."
Hasmukh Trailer
The trailer released by Netflix on Friday follows the journey of Hasmukh Sudiya ( Vir Das), a young man from Saharanpur who wants to become the biggest star comedy has ever seen. But the obstacle in his path lies in his crippling creative blocks. Hasmukh goes on to find out that the solution to his problem lies in killing someone before he goes up onstage. It starts out as an accident but accelerates rapidly. The winnable comedian turns into a serial killer within no time. With the help from his so called 'star-maker' Jimmy (Ranvir Shorey), Hasmukh sets up his job description, comedian by day and serial killer by night. Hasmukh is a series of absurd drama yet dark with abundant jokes which makes the show accidentally funny despite the darkness. The trailer show Vir Das finding it a little awkward as a country lad but the question is whether his natural comic timing comes to his aid during his act. Ranvir Shorey offers another interesting twist as the man looking to profit out of this murderous enterprise.
Hasmukh Plot
Hasmukh is a series which will follow the journey of a young man from the village of Saharanpur who wishes to become the greatest comedian in the world. Unfortunately, even though he is a great writer he lacks comic timing which doesn't make him apt as a comedian. But he has perseverance and determination up his sleeve and is ready to cross all limits to achieve his dream. He will go to any extent to make the world notice his talent. The series will trace how far he is willing to go to gain recognition and whether he will get away with whatever actions he commits. Hasmukh is a tale of untamed ambition and when not kept in check it can create ruckus.
Hasmukh Cast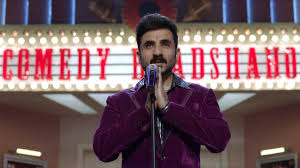 For any series to be favored by the audience it is most important for the characters to be accepted and moreover loved. The actors who slip into the skin of the characters need to do their job well and for that the directors need to choose actors well versed for the role. In addition to Vir Das, Haskmukh also includes a star cast of Ranvir Shorey (Khosla Ka Ghosla!), Manoj Pahwa (Article 15), Lok Sabha MP Ravi Kishan (Mukkabaaz), Amrita Bagchi (Music Teacher), Suhail Nayyar (Hotel Mumbai), Inaamulhaq (Nakkash), and Raza Murad (Padmaavat).
How to Watch Hasmukh?
Hasmukh is a Netflix original series and will only be available for streaming on Netflix. To be able to watch Hasmukh follow the next few simple steps:
Download the Netflix app through Play Store or App Store
If you do not have a Netflix subscription, please subscribe by finding a plan suitable for you
Once subscribed, login to your Netflix account
Season for Hasmukh which will be available for streaming for April 17th 2020 onwards