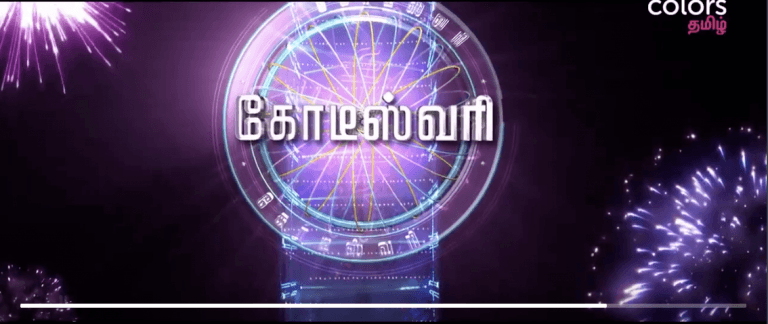 Colors Tv is known for its innovative program and they were the one to start Bigg Boss in India (in Hindi). Their regional channel Colors Tamil is gaining prominence among youth and they're coming up with innovative programs to attract the masses and youngsters. Now Colors Tamil have come up with the tamil spinoff of Crorepati but exclusive for women.
Colors Kodeeswari will have the same format as Crorepati which is hosted by Amitabh Bacchan but exclusive for female contestants only. This show was expected to be hosted by a powerful female actor from Tamil Cinema and it is none other than Radikaa Sarathkumar.
கலர்ஸ் தமிழ் பெருமையுடன் வழங்கும் உலகத்தின் மிகப்பெரிய வண்ணமயமான "கேம் ஷோ..!!".

முதல்முறையாகப் பெண்கள் மட்டுமே கலந்துகொள்ளும் ஒரு பிரம்மாண்டமான மேடை 'கோடீஸ்வரி'..!!#ColorsKodeeswari | #ColorsKOD | #ColorsTamil | @realradikaa pic.twitter.com/kt4FetFfaK

— Colors Tamil (@ColorsTvTamil) October 17, 2019
How to Register and apply for Colors Kodeeswari?
Answer one of the questions correctly which will be asked on Colors Tamil channel from October 28, 2019 at 8pm. If you answer one of those questions correctly you're eligible to playe Koodeeswari with Radikaa Sarathkumar. This is an exclusive game show for women.
Kodeeswari in Colors Tamil..!!

கலர்ஸ் தமிழ் பெருமையுடன் வழங்கும் உலகத்தின் மிகப்பெரிய வண்ணமயமான "கேம் ஷோ..!!". முதல்முறையாகப் பெண்கள் மட்டுமே கலந்துகொள்ளும் ஒரு பிரம்மாண்டமான மேடை 'கோடீஸ்வரி'..!!கலர்ஸ் தமிழ் தொலைக்காட்சியில் அக். 28ம் தேதி முதல் அடுத்து வரும் 7 நாட்களுக்கு தினமும் இரவு 8 மணிக்கு கேட்கப்படும் 7 கேள்விகளில் எதாவது ஒரு கேள்விக்கு சரியான பதிலளித்து ராதிகா சரத்குமாரோடு 'கோடீஸ்வரி' நிகழ்ச்சியில் விளையாடி கோடி ரூபாயை அள்ளும் வாய்ப்பைப் பெறுங்கள்.#ColorsKodeeswari | #ColorsKOD | #ColorsTamil | Radikaa Sarathkumar

Posted by Colors Tamil on Wednesday, 16 October 2019