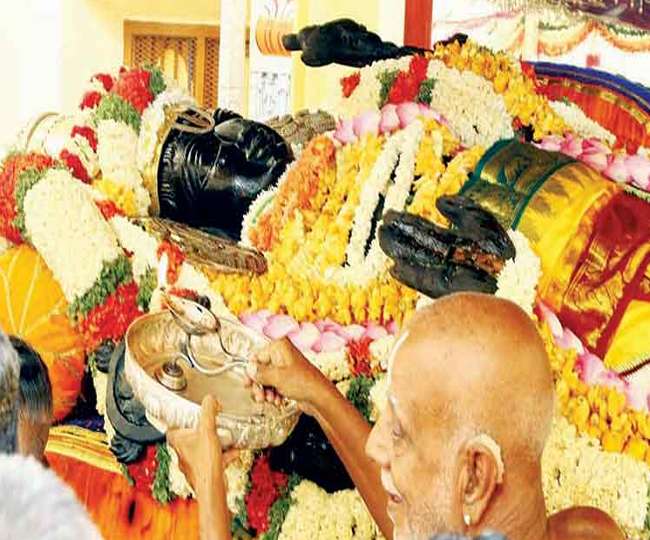 How to Book Athi Varadar tickets online – A Step by Step guide.
Rs. 300 Athi Varadar Special Darshan 2019 booked online, newly announced by Government of Tamil Nadu.
As the auspicious season of receiving the divine blessings of Athi Varadhar is reaching its midway mark, this once in 40 year old tradition has turned Kanchipuram into a pilgrimage hub.
Athi Varadar Today's Crowd Status – Updated Daily!!
Lakhs of devotees are converging into the pilgrim town of Kanchipuram and hotel owners, restaurants and transportation companies are making hay while the sun shines. The Tamilnadu Government has opened up an online booking facility for purchasing Darshan tickets for 500 Indian Rupees, however, the devotees are not very happy with this service.
Things You Should Know Before Planning to Book Athi Varadar Darshan Tickets Online
The online booking for Adhi Varadar darshan can be accessed from https://tnhrce.gov.in/eservices/archanaiticket_collection.php?tid=1864&catcode=0
The page appears by default in Tamil. The page can be translated to English by selecting the option in the top right corner of the webpage.
The online Sahasaranamam tickets open 4 days in advance. Devotees shall plan their trip to Kanchipuram according.
The Sahasaranamam tickets cost INR. 500 each.
There are two slots for booking the 500 rupees tickets – Morning slot which is at 6:30AM and evening slot which is at 5PM.
There are 250 tickets which can be booked for each slot.
A lot of VIPs including PM Modi are mulled to visit Kanchipuram in the coming days. Hence, keep a tab on the news before booking your tickets.
It is necessary to have an Aadhar card to book your online darshan slot.
Devotees who are planning to book the morning session should plan their overnight stay in hotels which are in close proximity to the temple. Vehicle entry within 2-3 kms within the temple perimeter will be a tough ordeal.
The free darshan is open from 8AM to 8PM and reports suggest that the queues are stretching upto 5-6 kilometers.
Checklist to Plan Your Trip to Kanchipuram for Athi Varadar Darshan
Kanchipuram is very hot and there are several reports of devotees fainting due to heatstroke and dehydration. It is very important to carry sufficient water and stay hydrated before and during the waiting period before the Athi Varadar darshan.
Book your hotels in advance and in proximity to the temple as hotels are getting booked very quickly and vehicles' movements are restricted.
Wear loose and light clothes are the sun will drain you out.
Ensure you have your hotel rooms booked for a couple of days as it is going to be hectic to complete the darshan and travel in a day. This is specifically for people from Chennai and nearby places who are planning to pay a visit to Kanchipuram.
The Athi Varadhar festival lasts for 48 days. The crowd is likely to increase towards the fag end of the festival. It is advisable to plan your trip soon.