How and where to watch Chandrayaan 2 Landing live Streaming online, here are the complete details.
The moment whole country is waiting since last July 22, 2019. That moment is coming at midnight on 7th September, 2019. In fact, between about 1:20am to 2:30am late night, Chandrayaan 2 is going to land on the south pole of the lunar surface. In such a situation, if Chandramayan 2's Vikram lander successfully lands on the south pole surface of the moon on September 7 (midnight), it will create history by doing such a feat. On this basis, India will become the first country in the world to achieve this feat. Earlier on July 22, Chandrayaan 2 was launched from the Satish Dhawan Space Center in Sriharikota, Andhra Pradesh. So at the same time ISRO has informed that the Rover Pragyan will be out of the moon lander between 5.30 am and 6:30 am. In such a situation, we are going to tell you where you can watch live streaming of this landing of Chandrayaan 2.




Chandrayaan 2 Live Streaming Online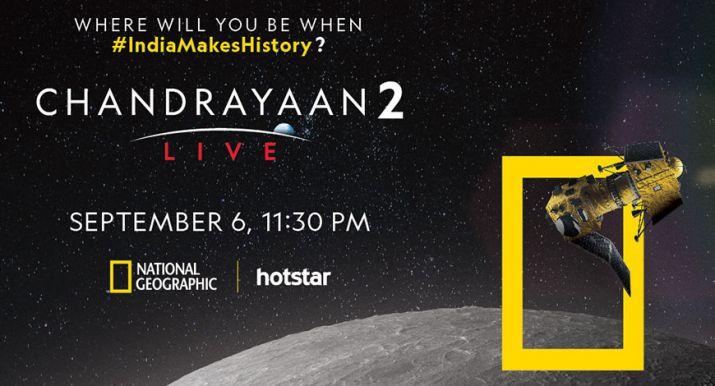 Landing live telecast on the lunar surface of Chandrayaan 2 will begin on ISRO's YouTube channel on September 7, 2019 at 1:10 AM on the Indian Standard time. Also You can witness the landing live on Doordarshan's official Youtube Channel.
Chandrayaan 2 Live On Tv Channels
You can witness it on Indian Government's official Tv channel Doordarshan, at the same time with NASA astronaut Jerry Langer, the live program of Chandrayaan 2 landing will be released on Net Geo from 11:30 pm. So people can witness Chandrayaan 2's live
Chanrayaan 2 Live Streaming in App
There will also be live streaming of Chandrayaan 2 on Hotstar.
In fact, Chandrayaan 2 has completed 47 days of successful travel since the launch of Chandrayaan 2 by Indian Space Research Organization, ISRO. The journey of Chandrayaan 2 has been very challenging and is now at its final stop and with the direction of ISRO's director, all the countrymen are hoping that Chandrayaan 2 should cross this last stop well.