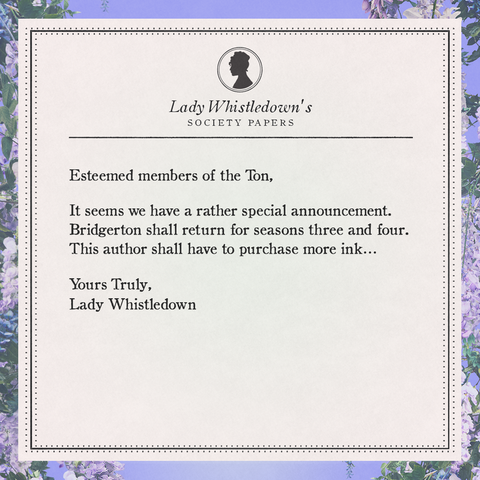 Bridgerton Season 3 Release Date
Netflix confirmed Bridgerton has been renewed for season 3 and season 4.  Bridgerton season 3 release date is predicted to be in Summer 2023. The production company of Shonda Rhimes, Shondaland TV, tweeted, "Esteemed members of the Ton, It seems we have a rather special announcement. Bridgerton shall return for seasons three and four. This author shall have to purchase more ink…"
What could be the plot, themes, and who might be the casts?
Bridgerton is based on Julia Quinn's series of books, each of which is devoted to the life of one of the eight siblings. Season 1 is inspired by The Duke and I focusing on Daphe (Phoebe Dynevor), while Season 2 is inspired by The Viscount Who Loved Me and delves deeper into Anthony's (Jonathan Bailey's) life. Season 3 which can draw an inspiration by An Offer From a Gentleman, is expected to focus on Benedict's (Luke Thompson's) relationship with Sophie Beckett, the illegitimate daughter of an earl whom he met at the Bridgerton Masquerade ball.
Anthony was the focus of the first season's subplot, and he renewed his role as the main protagonist in season 2. On that, because the subplot of season 2 centred around Benedict, it is possible that season 3 may follow his journey.
There are also a few events in season 2 that may be interpreted as a foreshadowing of Benedict's romance with Sophie. For example, Anthony stating that they need to employ new servants. Sophie ends up working as a servant in the Bridgerton home in the book, "An Offer From a Gentleman".
Story from Season 2
Simone Ashley confirmed her return in season 3 and season 4 and said, "In season two, there was a lot of push and pull between Kate and Anthony, there were complications with the family, and then they find each other towards the end. I think everything is just starting. I'd like to see Kate just let go a bit more and play more in season three and kind of swim in that circle of love together. I think they both deserve it."
Watch the story of Kate and Anthony here
We may anticipate to see more of Anthony and Kate's story, especially because the foreshadowing (in the moment where Anthony shows three fingers to Kate to check her concussion but quickly flips them to four fingers) suggests that they intended for three children but may end up with four.
Despite the fact that there is no certainty that the show would follow the book chronology, fans are excited about watching the "Cinderella tale."