Tanzila Anis, one of the employees of Gaana.com, has posted derogatory comments on her Twitter account about the recent killing of a Bajrang Dal worker.
A 26-year-old Bajrang Dal activist Rinku Sharma was killed in the Mangolpuri area of ​​Delhi. Rinku was actively participating in the ongoing fundraising campaign for the construction of the Ram temple in Ayodhya. The police have arrested 4 people in this case. The arrested accused have been identified as Mohammad Islam, Danish Naseeruddin, Dilshan, and Dilshad Islam.
A group of 25-30 people reportedly barged into the house on Wednesday (10 February 2021) and attacked Rinku Sharma. Seriously injured, Rinku was rushed to the hospital, where he succumbed the next day.
Who is Tanzila Anis
Tanzila Anis is the content head of the online music streaming platform Gaana.com. Tanzila Anis tried to justify the murder of Rinku Sharma through her tweet.
On the one hand, people are angry about the Hindu youth's brutal murder; on the other hand, some Islamists and left-liberals celebrate this murder on social media platforms.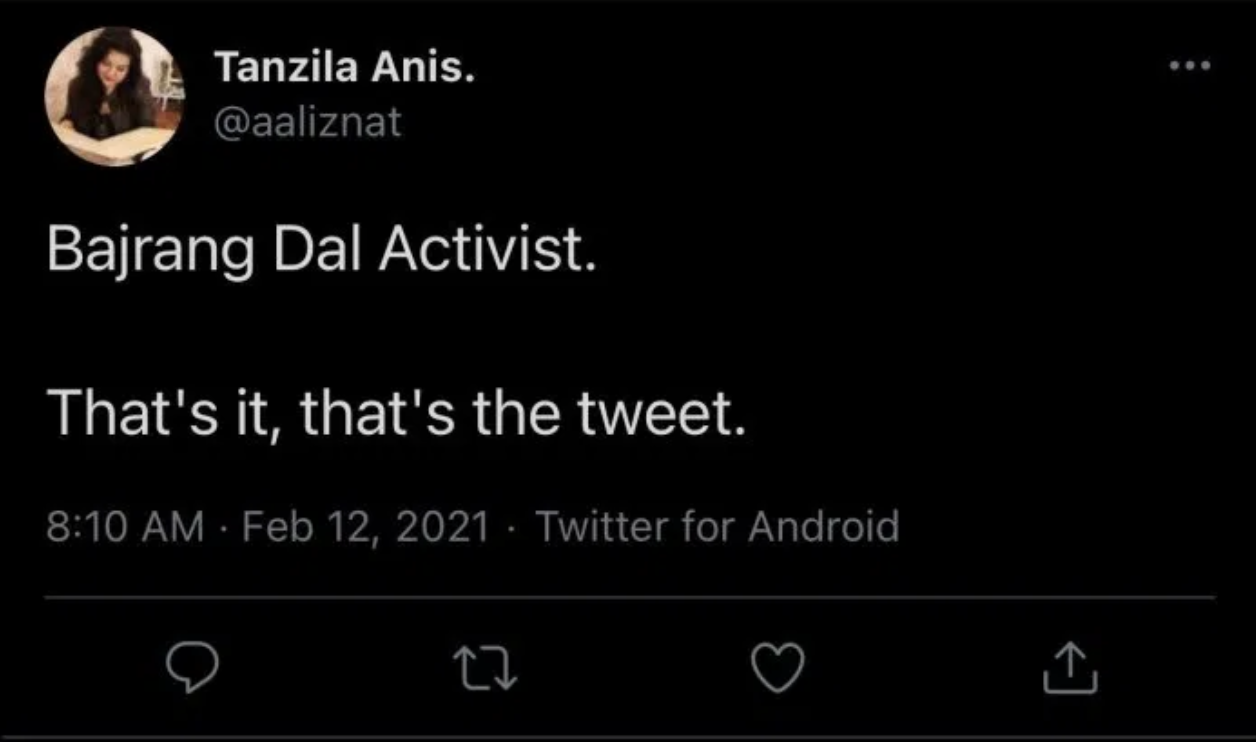 Tanzila Anis said on Twitter that the deceased person was a Bajrang Dal worker, and that is enough. If we look at the tweet, it is evident that Tanzila is indirectly justifying the murder because Rinku Sharma was a Bajrang Dal activist who was participating in the ongoing money collection campaign for the construction of the Ram temple. Tanzila has tried to clarify by deleting the tweet when there is a dispute.
After the tweet surfaced, social media users have demanded the sacking of Tanzila Anis from Gaana.com. Also, #BoycottGaana is trending on Twitter, and many of them are uninstalling Gaana to show their protest.
Tanzila Anis's Twitter account is deleted now, but there are various screenshots shared showing her derogatory comments.