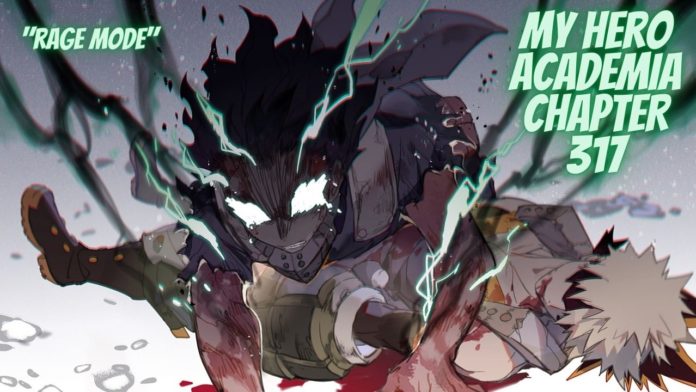 Boku no Hero Academia is on a roll. Kohei Horikoshi's love letter to classic hero comics is on the 317th Chapter. Let's see what this chapter will bring. To recap, the entire hero society is in an upheaval Izuku Midoriya (Deku) has taken off to become a hero and to work with his many quirks. Deku has managed to interact with all the previous quirk users of One For All (OFA). We know that he will become the No.1 Hero, that is inevitable, but there is All For One (AFO) who stands in his way.
In the previous chapters, we were introduced to the female villain Lady Nagant. Her backstory and her character popularity have made headlines. Horikoshi has now introduced AFO , who has now officially entered the scene. He has brutally injured Lady Nagant who is unconscious. The other pro-heroes are there to support Deku. Hawks especially came in the right time and saved her from near death.
BNHA Chapter 317 Spoilers
These spoilers only have some degree of accuracy to them, so take it with a grain of salt. Read ahead only if you want to know the plot points and these will contain major spoilers.
The chapter is to be titled 'Wounds, Blood and Mud'.
There are no casualties from the major explosion of the previous chapters.
The heroes are recuperating in a store near the seafront.
Edgeshot asks something that has been in the reader's mind. Can they go public with the truth about AFO? He voices out that AFO will cause more damage and that it is only a matter of time before the public know.
But there is a catch, if this continues Deku will be the scapegoat in all this.
Lady brings up a good point that why hasn't AFO revealed his side in all this. Endeavor adds that there must be an ulterior motive.
Deku is besieged by assassins from AFO, but manages to beat them easily. But the assassins provide no clarity All Might is concerned about Deku, and requests him to stay low.
Deku frightened and traumatised by AFO's attack on Lady Nagant and whom he saw explode in front of his eyes and is deeply scared. He asks All Might to stay away, and stay safe.
Meanwhile, the chapter ends with Deku (whose identity is unknown to the citizens), whose clothing is messy and is always sporting bruises. They wonder if this person could be a hero.
BNHA Chapter 317 Theories
There is a lot of unpack, but there is some consensus. AFO seems to be on the warpath and it is certain that there is going to an epic showdown between the heroes and the villains. Stay tuned while we analyse these aspects!