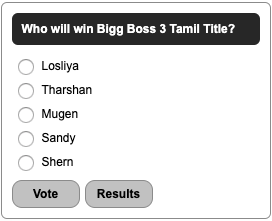 Bigg Boss 3 Tamil saw a huge twist yesterday with Kavin leaving the show. Kavin was given an option to leave the show with five lakhs or stay back and win title. Kavin chose the first option which shocked everyone including the viewers as he is considered to be the toughest contestant of the season. He infact topped every vote whenever nominated for eviction. Kavin has a huge fan base and they always voted for him, with Kavin leaving we are not sure who will win people's vote and Bigg Boss 3 Title. The remaining contestants are Mugen, Tharshan, Sandy, Losliya and Sherin, it will be a tough competition between them to win the Title of BB.
As Kavin's close aid and lover Losliya has a chance to win title while fan favourites Sandy, Tharshan and Mugen have equal popularity to become the next Bigg Boss winner. Sherin is the only odd man out here but she continues to survive with the help of her fans. So who will win the title, vote below and share your views.




Who will win Bigg Boss 3 Tamil Title?