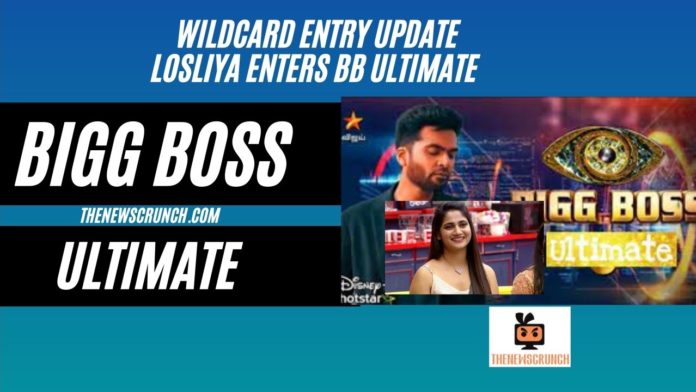 Bigg Boss Ultimate completes its fifth week and there are massive controversies and updates this week. The housemates of Bigg Boss Ultimate will welcome the new host for Bigg Boss Ultimate weekend episodes, Simbu. However, Simbu's first weekend in the show will also result in the announcement of a new sensational wildcard entry, Losliya.
Also Read: Bigg Boss Ultimate Nominations List Week 6 – Online Voting Results
Bigg Boss Ultimate received an extension of three weeks. As a result, Suresh reentered the house as wildcard entry with KPY fame Satish. However, the third wildcard entry is all set to enter the Bigg Boss Ultimate house. The makers are looking to spice things up in the house with some sensational ex-contestants like Losliya.
Bigg Boss Ultimate Wildcard Entry Update
Bigg Boss Ultimate will feature an exciting wildcard entry for the first time ever in Bigg Boss Tamil seasons. The excitement around the entry of the Bigg Boss Ultimate wildcard in an already boiling house surprises the audience.
Losliya Enters as Wildcard in BB Ultimate
The sensation of Bigg Boss Tamil Season 3, Losliya enters the Bigg Boss Ultimate house this weekend. Kavin and Losliya triggered massive support from their season which boosted the TRP. However, it is unclear if Losliya will be the only wildcard entry this week.
Abirami will receive a huge boost as her rapport with Losliya is well known. However, it will add pressure to the other female contestants as Losliya enters the Bigg Boss Ultimate race as wildcard with a massive fan base.