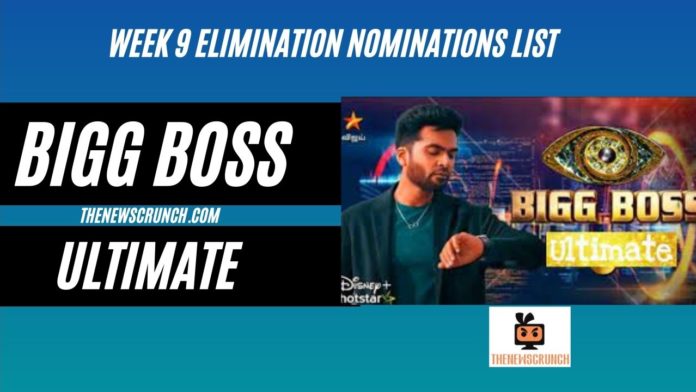 Bigg Boss Ultimate vote enters its ninth week amidst a twist filled open nomination task in the Bigg Boss Ultimate house. Thamarai is the last captain but is unsafe from nominations this week. However, the shocking twist in elimination nominations task was that Bigg Boss nominated all the contestants ahead of the ticket to finale week.
Also Read: Bigg Boss Ultimate Online Voting Results 30th March Week 9 Elimination
Satish was the last elimination of Bigg Boss Ultimate. All the seven contestants entered the elimination nominations race. Ticket to finale tasks will commence in Bigg Boss Ultimate this week. The voting results for week 9 elimination will feature a tough fight between Abirami and Suruthi.

Bigg Boss Ultimate Nominations List Week 9
Abirami
Ramya Pandian
Niroop
Thamarai
Suruthi
Bala
Julie
Bigg Boss Ultimate Voting Results Week 9 Elimination – Day 1
Bigg Boss spiced up the nominations task with a twist. All contestants are nominated at the end of the open nominations task.
The ticket to finale task performances will be crucial for Suruthi and Abirami as one of the contestants will be evicted this week before the Bigg Boss Ultimate Grand finale.
Back to back captain Thamarai entered the nominations list but she will be a sure finalist considering her performances.
Abirami and Suruthi are in danger of elimination this week.
Ramya and Julie got maximum nominations but it will be interesting to see if Suruthi or Ramya can win the ticket to finale tasks.
Bigg Boss Ultimate Elimination List
Suja Varunee
Suresh
Shariq
Abhinay
Dhadi Bhalajie
Vanitha
Snehan
Anitha
Satish
Bigg Boss Ultimate Vote Online Poll