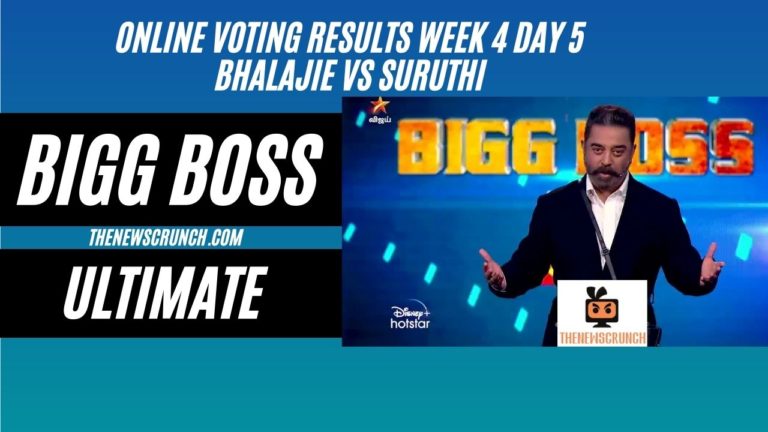 Bigg Boss Ultimate reaches the fag end of the fourth end week as the 'angels vs demons' task entertains the audience. Bigg Boss Ultimate currently houses 11 contestants with eight nominations for the week 5 elimination. Vanitha walked out of the house while Shariq, Abhinay got evicted last week. Bigg Boss Ultimate voting results for week 4 indicates danger for Suruthi and Bhalajie.
Also Read: Bigg Boss Ultimate Online Voting Results 1st March Week 5 Elimination
The nominations list for Bigg Boss Ultimate features a mix of trending contestants except Balaji and Thamarai. Thamarai's captaincy and performances brought her in contention for the trending player for the week.However, the performances in this week's 'Angels vs Demons' task will be crucial to determine the fate of the seven remaining nominated housemates.
Julie and Niroop hold a massive lead in  the voting results for week 4 as the weaker contestants of Bigg Boss 5 Tamil Ultimate are in danger this week. Bigg Boss 5 Ultimate eviction voting results signals massive danger for Snehan, Suruthi and Balaji. There are high chances of Anitha entering the week 4 elimination voting results' danger zone.
Bigg Boss Ultimate Tamil Voting Online – Week 4 Eviction Poll Results

Bigg Boss Ultimate Nominations List – Elimination Week 4 – Voting Results
Suruthi
Julie
Abirami
Snehan
Anitha
Dhadi balaji
Vanitha
Niroop
Bigg Boss Ultimate Tamil Online Voting Results 4th Week Live – 25th Feb 2022 Poll Results
Suruthi – 9% vote share
Anitha – 14% vote share
Abirami – 17% vote share
Dhadi Balaji – 8% vote share
Julie – 17% vote share
Vanitha – Walked Out (Eliminated)
Snehan – 10% vote share
Niroop – 25% vote share
Bigg Boss Ultimate Week 4 Voting Trends & Analysis – Day 4 – 25th February 2022
Bigg Boss Ultimate week 4 nominations list features seven contestants now as Vanitha walked out of the show.
Niroop, Abirami and Thamarai are grabbing maximum screen time from this week's luxury budget task.
Abirami and Anitha steer clear of danger on the last day of voting results.
Niroop leads the voting results from the first day of voting while the chances of elimination are less for Julie, Anitha.
Julie is looking to consolidate on her vote base in a crucial time as she enters the top two in Bigg Boss Ultimate and holds to her position.
Thamarai's surge is questionable post Vanitha's exit from the Bigg Boss Ultimate house.
The contestants in danger of elimination this week in Bigg Boss Ultimate are Snehan and Suruthi.
Bigg Boss Ultimate Unofficial Voting Week 4 – Bigg Boss 5 Ultimate Online Voting Results Fourth Week
Bigg Boss Ultimate Missed Call Numbers Week 4 Eviction Nominations
These are the missed call numbers for contestants:
Bigg Boss Tamil Ultimate Voting Methods
There are two voting methods by which the viewers can cast votes for their favorite contestant. One is an Hostar App Voting, and the other is by Missed Call Voting.
The step-by-step procedure on "How to Vote for Bigg Boss Ultimate Online through Hotstar?" has given below. The contestants who fail in convincing the audience may eliminate from the show.
How to Vote Bigg Boss Ultimate Online on Hotstar App
For your queries on "How to Vote for Bigg Boss Ultimate?" below are the answers:
Download Hotstar App from Google Play Store or App Store
Create or login to your account on Hotstar App
Search for 'Bigg Boss' using the search box on the top right.
Select the Bigg Boss Ultimate show banner.
Now, you will find a Voting option below the latest Bigg Boss Ultimate video
Click the Vote button to cast your votes
Images of Nominated contestants will appear on the screen
Tap on your favorite contestant and split your votes
You can vote a maximum of 10 votes a day (Voting closes at midnight)
Missed Call Numbers for Bigg Boss Ultimate Contestants – Vote for your favourite BB5 Tamil Contestant via Missed Calls

Also, the missed call voting can be done with the < firm>Missed Call Numbers provided for each contestant. To vote for your favorite contestant in Bigg Boss, give a missed call to the below mentioned mobile number. A maximum of 10 calls per number is counted for a week, and the calls after that will not be considered for voting. You can vote for your favorite contestant by giving a missed call to the number.