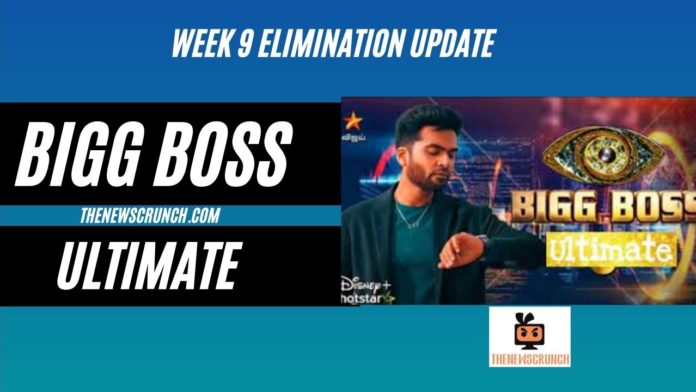 This week, Bala, Julie, Thamarai, and Niroop are among the nominees for the Bigg Boss Ultimate. Suruthi left the house in the middle of the week after winning INR 15 lakhs of prize money. However, one eviction this week decide the finalists. The host Simbu will return for his fourth week in the show, with a 24×7 broadcast on the Hotstar OTT.  Ramya, and Abirami are in danger of eviction this week.
No elimination this week as Suruthi walks out with suitcase. The finale week will have six contestants competing for the title.


The Bigg Boss Ultimate show started with 14 contestants. According to the show's rules, the contestant with the lowest number of votes cast will be eliminated. Suruthi and Julie fought hard to win the prize money. Satish was the last eviction from Bigg Boss Ultimate in week 9 due to least votes which was obvious.
Bigg Boss Ultimate Elimination Update – Week 9
Bigg Boss Ultimate is spiced up with the entry of a stunning wildcard , Ramya Pandian. However, the limelight shifts to a lackluster Abirami who failed to rise up to the competition this week. It is high time Abirami is eliminated from the house.
Of the seven nominations this week, Bala received the most votes. So he is likely to be saved first. Next to Bala is Thamarai. Niroop is in third place, and Julie is in 4th place, respectively. With this, it is said that Abirami is most likely to leave Bigg Boss house this week. Ramya and Abirami will share the bottom two slots while Julie escapes eviction this week.