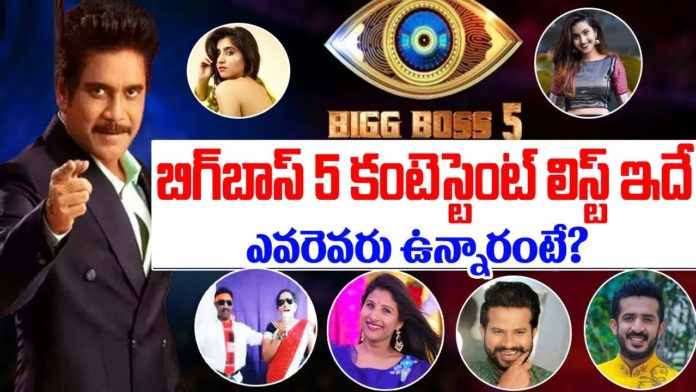 Bigg Boss 5 Telugu is creating the buzz as the next season is due in a few weeks. However, the makers of Bigg Boss Telugu Season 5 might be subjected to a tentative postponement of production activities. The excitement around the potential Bigg Boss Telugu 5 contestants list is increasing by the day. However, the starting date is yet to be revealed for the controversial reality show.
Bigg Boss 5 Telugu will feature commoners as well as noted celebrities and social media stars. According to reports, five contestants are confirmed for entering the Bigg Boss Telugu Season 5 house. However, the official list of contestants will be revealed ahead of the Grand Premiere
Bigg Boss 5 Telugu Contestants List
Varsha
Deepika Pilla
Shanmukh Jaswanth
Durga Rao
Anchor Ravi
Bigg Boss 5 Telugu Probable Contestants
Varsha
The hilarious and gorgeous 'Jabardasth' Varsha will be the first confirmed contestant of Bigg Boss 5 Telugu. Varsha possesses a stellar fan base for her comedy videos on social media platforms. However, the comedian's steamy photoshoots also created a viral buzz on social media.
Deepika Pilla
Popular Tiktok influencer and social media star, Deepika Pilla is another potential contestant for the Bigg Boss Telugu Season 5. According to fan base, Deepika Pilla could become a sensation like Harika for Bigg Boss 4 Telugu. Deepika Pilla will be a strong contender thanks to her million followers on Instagram and stellar subscriber base on Youtube.
Shanmukh Jaswanth
Shanmukh is another potential contestant for the Bigg Boss Telugu Season 5. Shanmukh is popularly known as 'Shannu' on social media platforms and possesses a good fan base. Shanmukh could replicate the physical charisma of Mehboob from the previous season. Shanmukh is the boyfriend of Deepthi Sunaina.
Durga Rao
Popular Tiktoker and comedian Durga Rao is in talks for Bigg Boss 5 Telugu entry. The quest for a comedian or entertainer in this edition of Bigg Boss Telugu could end with Durga Rao.