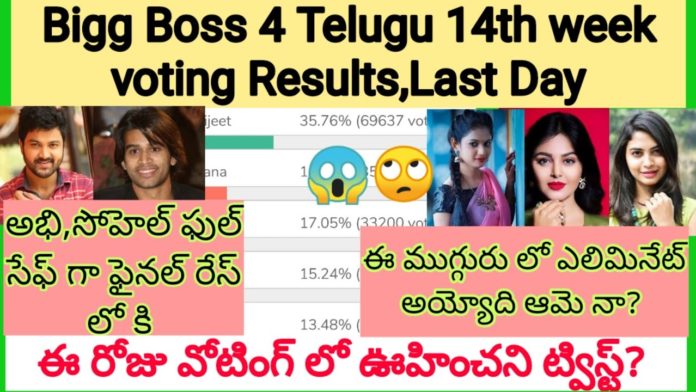 The voting lines for Bigg Boss 4 Telugu's final elimination nominations in week 14 ended on Friday. After an eventful week of drama, fights, emotions, and pumped dancing the contestants gear up for the suspense-filled weekend episodes with host Nagarjuna. Five contestants' fate lies in the hands of the elimination announcement card on Sunday.
After a rollercoaster week, 14 in Bigg Boss Telugu 4, Harika and Ariyana gained the respect of the audience. Social media is abuzz with praises for the two young ladies in the Bigg Boss house. Harika and Ariyana are the most deserving contestants to enter the finals of Bigg Boss Telugu 4 alongside Akhil and Abhijeet.
Sohel made a mess of his prospects to enter the finals. After his shoddy aggression and terrible anger management at the display, Sohel dropped from a potential top 2 spot to the danger of elimination this week. While several voting results predict Monal's eviction this week, the audience believes it could go either way.
Monal and Harika are equally in danger but it would be disappointing to see Harika walk out after a stellar performance on Friday. Sohel is struggling to stay as well but he might be good enough to enter the finals. Abhijeet rocked in the dancing task and is expected to be the first contestant to be saved.
Monal was saved multiple times against the wishes of the masses but this week might the end of the ride for her. There are high chances that Bigg Boss might spring a surprise but the potential spot for the top 5 seems to be a far-fetched dream for Monal.
Harika gained massive votes on Friday but is it too little too late? Bigg Boss 4 Telugu weekend episodes will be telecasted on Star Maa and Hotstar at 9:30PM IST.
Bigg Boss 4 Telugu Voting Results and Trends This Week –  13th December 2020
Harika – 15% vote share
Monal – 15% vote share
Abhijeet – 29% vote share
Sohel – 16% vote share
Ariyana – 22% vote share