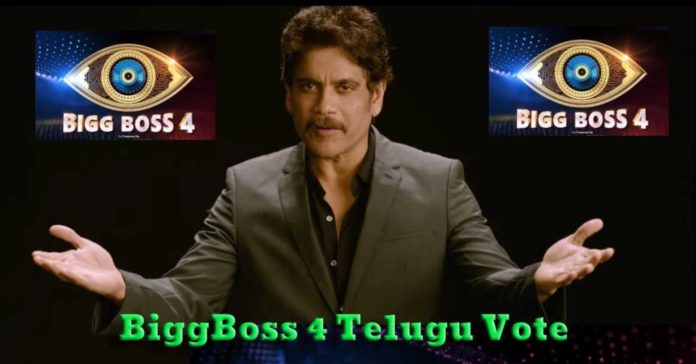 Bigg Boss 4 Telugu House Contestants and Bigg Boss Season 4 Voting for your favourite has started and people can vote either through the online voting poll or through missed call service or through mobile App. The complete details regarding Bigg Boss Telugu Vote Season 4 can be found below. This will be the fourth season for Bigg Boss Telugu starts from 6th September 2020.
As per the previous seasons, 50 votes per day per Gmail ID will be considered, which the audience can use to vote for their favourite contestants. Nagarjuna, the Host of Bigg Boss Telugu 4 will announce the eliminated contestant based on the vote percentage received. However, the final decision will be in the hands of Star Maa Management.




BIGG BOSS TELUGU SEASON 4 CONTESTANTS – BIGG BOSS TELUGU 4 VOTING ONLINE FOR FINALS
The participants of the fourth season of Bigg Boss Telugu will have to be in isolation for 14 days before entering into the house. As per the guidelines proposed by the government, only 50 people can work in the House set.
Bigg Boss Telugu 4 Season 2020 is co-presented by Colgate, Oppo Mobiles, Skandhanshi Infra Projects while the special partners are Tenali Double Horse, MTR and Kitchen Appliances partner is Preethi Zodiac 2.0 and costume partner is Dazller Eterna.
Bigg Boss Telugu 4 Voting Eviction Process:
Each week the housemates has to nominate any 2 participants for elimination. Later, the public will choose whom to vote from the final nomination list which will be available online. The person with the least number of votes or with less vote percentage will be eliminated. Bigg boss Telugu season 4 can be watched online at Hotstar (Official Broadcaster). The complete details of the Bigg boss Telugu vote process are as follows.
BIGG BOSS TELUGU SEASON 4 FINAL CONTESTANTS LIST
According to a few online sources, some of the following participants will be seen in the House on 06th September 2020.
Dethadi Harika
Singer Noel
Lasya (Anchor)
Karate Kalyani
TV9 Devi
Gangavva
Sohail Riyan
Mukku Avinash
Mehbooba Dil Se (YouTube Star)
Anchor Ariyana
Jordar Sujatha
Divi Vadhya
Amma Rajasekhar
Monal Gajjar (Sudigadu Movie Heroine)
Abhijith (Life is Beautiful Hero)
Swathi Deekshith (Jump Jilani Heroine)
BIGG BOSS TELUGU SEASON 4 VOTING METHOD
The voting method for contestants will be in following ways..
Bigg Boss Telugu Voting through Google
Go to Google, Sign In and Search 'Bigg Boss Telugu Vote' (or) 'Bigg Boss Vote'
Click on the contestant who you wish to vote
Select the number of votes (maximum upto 10 votes)
Click on submit
Your Votes have been successfully submitted to Star Maa TV
BIGG BOSS TELUGU VOTING MISSED CALL NUMBERS
To save your favorite Telugu Bigg Boss Contestant from elimination, just give a missed call to the mentioned mobile numbers
ABHIJEET – 888 66 58 204
SURYA KIRAN – 888 66 58 202
AKHIL SARTHAK – 888 66 58 215
DIVI – 888 66 58 214
MEHBOOB – 888 66 58 206
SUJATHA – 888 66 58 205
GANGAVVA – 888 66 58 216
HOW TO VOTE IN HOTSTAR FOR BIGG BOSS TELUGU SEASON 4?
Install the latest version of Hotstar App
Open the Hotstar app.
Go to "Bigg Boss Telugu" page
Below each stream, you will find an option to vote for your favorite contestants
Click the "Vote now" button
Choose your Favourite Contestant name
You have 50 votes each day to vote for Bigg Boss Telugu 4
Missed call voting method is also available
Bigg Boss Telugu Voting Week 1
BIGG BOSS TELUGU SEASON 4 LAUNCH DATE
As per the latest reports, Nagarjuna will be leading the contestants as a Host. The shooting for Bigg Boss Telugu Season 4 has already been started. The Star Maa will announce the date. But, according to few Online sources, the launch will be on 06th September, 2020. The contestants list will be announced shortly.
BIGG BOSS TELUGU VOTE LIVE STATUS
Star Maa will be displaying the Live Vote count of individual contestants who are into Bigg Boss Telugu Final. The Bigg Boss Telugu vote counts will be displayed in regular intervals in Star Maa TV in a small box at the bottom. As of now, voting for Elimination has not started. Bookmark us to be updated.
WHO WILL WIN BIGG BOSS TELUGU SEASON 4?
The online polling of Bigg Boss Telugu Vote will be the deciding factor. The online poll will be active from Monday to Friday of every week. The results are then collected by Star Maa TV and the contestants with the least Bigg Boss vote percentage will be shown the exit.
The total vote count of the Bigg Boss poll will be revealed by the host Nagarjuna. However, the individual vote count will not be disclosed in the episode. The contestant with the highest vote percentage will be declared as the winner of Bigg Boss Telugu 4.
BIGG BOSS TELUGU ONLINE VOTING Q&A
When will Nagarjuna attend Episodes in Season 4? As a host, Nagarjuna will be seen only during the Weekends ( Saturday & Sunday).
How long will the Bigg Boss Season 4 voting take place? The voting for Bigg Boss Telugu 4 starts from Monday to Friday.
Does participants elimination happen in all weeks? No, The participant's elimination in the Season 4 may not happen in some weeks. There could be many reasons for this elimination.
Where can we check the Bigg Boss Telugu Season 4 Weekly Voting results? As per their rules, The voting results will not be disclosed to the public, you may have to wait until the announcement by the Host Nagarjuna.
What happens when 2 or more contestants get the same no.of votes? The decision will be taken by Bigg Boss and Maa TV management.
Where can I watch Bigg Boss Telugu 4 Seasons Online? You can watch Star Maa TV's Bigg Boss Telugu exclusively on Hotstar App.
When will Bigg Boss 4 Telugu eviction Happen? The eviction of participants happens every Sunday based on the Voting Percentage.
Where is Bigg Boss house in Hyderabad? Bigg Boss Telugu House is set up in Annapurna Studios, Banjara Hills, Hyderabad.
When does Online Voting for Bigg Boss Telugu 4 Begin? Bigg Boss Telugu Vote begins 10:00 PM every Monday.
Who has the more Chance of winning Bigg Boss Telugu Season 4? This entirely depends on the polls percentage.