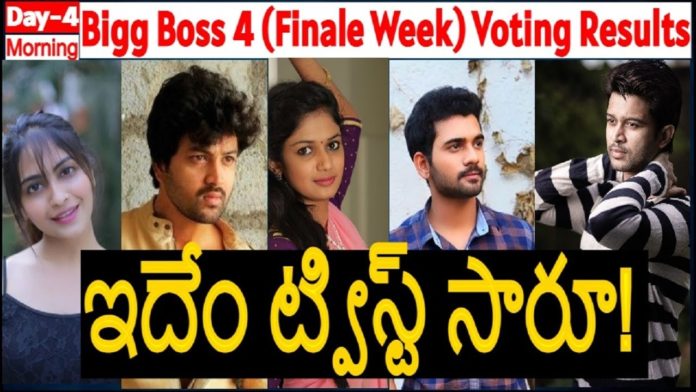 The final fight of Bigg Boss Season 4 is going on very emotionally. Bigg Boss showed the emotional journey of the contestants who reached the final in yesterday's episode. This journey is shown to attract fans to vote for their favorite finale contestants.
Bigg Boss Telugu 4 Top 5 Contestants: Finalists of Bigg Boss Telugu 4
Akhil Sarthak (ticket to finale winner)
Abhijeet
Ariyana
Harika
Sohel
The first finalist, Akhil Sarthak's emotional journey inside Bigg Boss house, was sow; he reached the finale first by winning a finale ticket. Bigg Boss, who spoke wonderfully about Akhil, instilled confidence in him. Akhil was emotional as Bigg Boss provided a recognizable experience in life with the final episode's elevations. The Akhil Emotional Journey video, in particular, was highlighted. In the end, Bigg Boss told you to take his favorite photo and go inside. Akhil went into the house with the photo of him winning the ticket to the finale medal.
But Akhil's voting results are not on the bright side. He is lurking at the bottom with Harika and has just a 10% vote.
Abhijeet later had a similar experience. According to Bigg Boss, Abhijeet, who came as a young charming boy, has received many accolades and has also won the title of Mature Man in the House. Bigg Boss said that Abhijeet faced many difficulties during this short journey and formed many more bonds.
Bigg Boss further said that they are very proud to have an intelligent contestant like him in the house. Afterward, Abhijeet's entire journey was shown in the form of a video. Abhijeet later said that this was the best decision he had ever made in my life. This was followed by Sohel, Ariyana, and Harika's emotional journey.
Abhijeet is leading the voting results, with 50% of votes. He is marching miles ahead compared to other contestants inside the Bigg Boss house. If this trend continues, Abhijeet might win the title of Bigg Boss 4 Telugu.
Bigg Boss Telugu 4 Finale Voting Results – 17th December 2020
Akhil Sarthak – 10.66% votes
Abhijeet – 50.48% votes
Ariyana – 16.49%
Harika – 7.11% votes
Sohel – 15.26% votes
Harika is at the bottom of the voting results and is in danger of eviction today. Akhil or Sohel is expected to take the fourth spot as they both have similar voting percentages. The final winner will most likely be Abhijeet, according to today's voting trends.
Bigg Boss Telugu 4 Finale Online Voting Method
How to vote in Hotstar for Bigg Boss Telugu Season 4 Disney+ Hotstar App?
Open Play Store or iOS Appstore in your Mobile.
Search for the " Disney+ Hotstar " app and Install the latest version.
Now open the Hotstar app.
Go to the "Bigg Boss Telugu" page.
Below the stream, you will find an option to vote
Click the "Vote now" button.
Choose your Favourite Contestant.
You have 10 votes each day to vote for Bigg Boss Telugu 4.
Missed call voting method is also available, and that information is given below.
Bigg Boss Telugu 4 Missed Call Numbers Finale Week