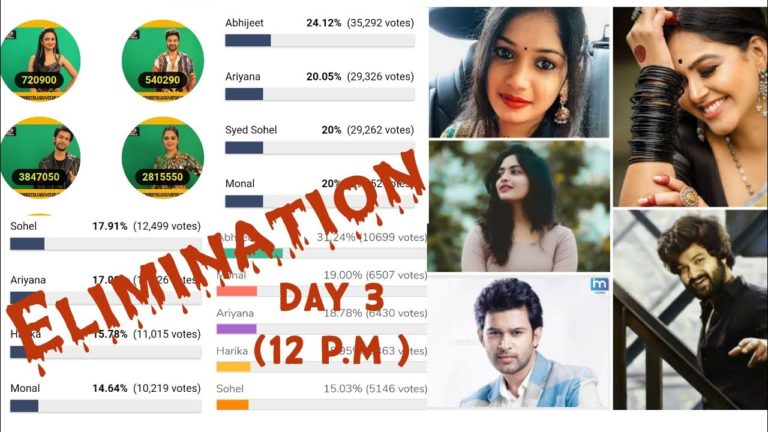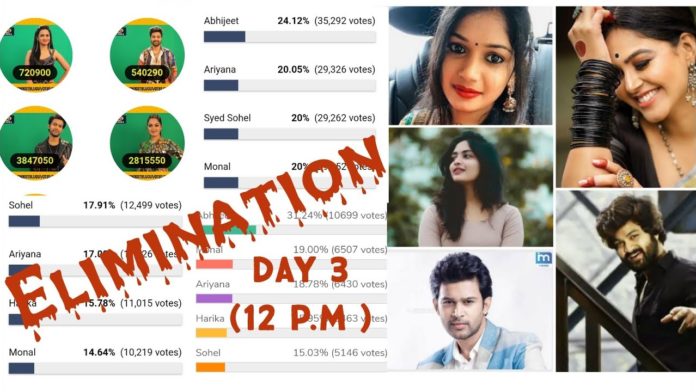 Bigg Boss Telugu Season 4 enters the fourteenth week with the finals just around the corner. With just six contestants in the house, the final nominations task for this season of Bigg Boss Telugu took place with much vigor. All the five contestants except for the ticket to finale winner, Akhil were nominated for eliminations this week. One of them will be eliminated in the weekend episode hosted by Nagarjuna.
Update: Sohel falls into bottom two of the voting results after the incidents against Ariyana. Ariyana improves her vote share as a result of the fight with Sohel. Harika is in the bottom of the voting results.
Jabardasth fame Mukku Avinash was the last contestant to be evicted from the show.
Bigg Boss 4 Telugu Elimination Nominations List For This Week
Abhijeet
Sohel
Harika
Avinash
Monal
Bigg Boss 4 Telugu Voting Results and Trends This Week –  10th December 2020
Harika – 15% vote share
Monal – 17% vote share
Abhijeet – 29% vote share
Sohel – 16% vote share
Ariyana – 20% vote share
This week's elimination voting results will be a crucial one for Sohel and his fans. After a long time, Sohel was featured in the promo of 8th December's episode. However, Sohel's bullying is taking the limelight after his weeks of hard work are forgotten. Neutral audience and Ariyana's fans are demanding a red card for Sohel's behavior during his fight against Ariyana.
As a result of this fight, the real fight for elimination this week will be between Harika and Sohel. Ariyana is also in danger but compared to Harika, she gained some vote share on account of sympathy after the current fight. Monal's support was shrinking over the last couple of weeks and it is quite evident from the first two days of voting results this week.
According to reports, there could be a very close competition between Monal, Sohel and Harika this week which will decide the top five contestants of the house.
Bigg Boss Telugu 4 contestant in Week 14 Online Voting Method
How to vote in Hotstar for Bigg Boss Telugu Season 4 Disney+ Hotstar App?
Open Play Store or iOS Appstore in your Mobile.
Search for the " Disney+ Hotstar " app and Install the latest version.
Now open the Hotstar app.
Go to the "Bigg Boss Telugu" page.
Below the stream, you will find an option to vote.
Click the "Vote now" button.
Choose your Favourite Contestant.
You have 50 votes each day to vote for Bigg Boss Telugu 4.
Missed call voting method is also available, and that information is given below.
Bigg Boss Telugu 4 Missed Call Numbers Week 14