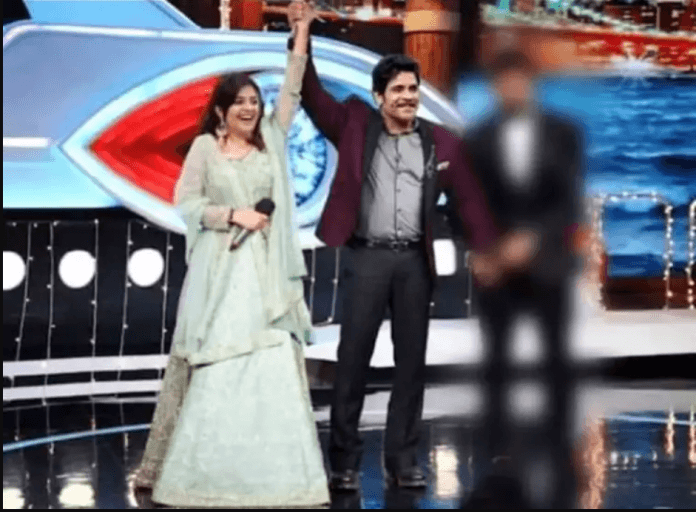 Bigg Boss Telugu 3 is all set for a grand finale this weekend. As contestants geared up for their memorable reunion, a lot is at stake for the finalists. Fans are wooing for their favorites and the audience are pretty happy with the way this season has shaped up.




The finalists of Bigg Boss Telugu 3 are Baba Bhaskar, Varun Sandesh, Sreemukhi, Rahul and Ali Reza. However, Rahul and Sreemukhi are touted as favorites to win the title.
'Sreemukhi's Viral Winning Picture With Nagarjuna is Fake: Sushruth'
While the battle between Sreemukhi and Rahul for title winner position intensifies, Rahul is clearly in the lead. However, Sreemukhi fans feel its too early to give up.
A lot of speculations about the winners and runner ups of Bigg Boss Telugu 3 are making the rounds on social media. However, it is unclear if they are rumours or actual news. Recently, a picture of Sreemukhi became viral on social media. In the picture, Sreemukhi is elated to be crowned as the winner and the host Nagarjuna is also seen in the picture.
Also seen in the picture, is another person whose face is smudged. It is speculated that the other person is Ali Reza. Hence, Ali and Sreemukhi were considered to be the final two out of which Sreemukhi was declared as the winner.
However, Sreemukhi's brother Sushruth cleared the air about the speculation through a post on his Instagram account. He explained that the picture is fake and photoshopped. However, he urged Sreemukhi's fans to keep voting for her and asked them not to get excited too soon.
Do you think Sreemukhi deserves to win the title? Let us know in the comments below.sreemukhi