There are only two more days left for Bigg Boss 3 Tamil finale voting as winner of Bigg Boss will be announced on Sunday 6th October, 2019. This update is till 4th October and as of today Mugen is leading and he is people's choice for winning Bigg Boss 3 Tamil title.




Is Mugen getting Tharshan's vote too?
Mugen seemed to be the favourite of all the four contestants among netizens and they seem to show their appreciation by casting fifty votes for him. There was a twist and slight hiccup for Mugen yesterday but he caught up with people once again approving him as the favourite to win Bigg Boss 3 Title. It appears that Mugen's vote includes Tharshan's vote too and if Tharshan would have been in the house then votes would have split between them and other would have had a chance to catch up.
How to Vote for Mugen – You can go to Hotstar app and give him fifty votes under Bigg Boss Tamil section
Mugen Missed Call number for voting – 836-7796-808

Losliya Vs Sherin for Runner up?
It looks like there's an intense battle for Losliya vs Sherin for number 2 spot. People's Sympathy for Sherin has increased due to Vanitha's allegation and they seem to vote her over Sandy. There are numerous tweets saying Sandy is not playing the game and seem to run away during fights and controversies while Sherin with no fan base have stood and fought for what she deserves. Kavin's fans are not giving up on Losliya and they're casting vote heavily to support her while Tharshan fans have taken up to support Sherin over the other contestants. We have to closely watch this contest and anything may happen.


Sherin Azhagiya Asura Song during Bigg Boss 3:
I waited the whole season for this to happen ??? #SherinShringar #sherinbaby #SherinArmy #BiggBossTamil3 pic.twitter.com/tgyHEGEn5O

— खुश (@khusbubee) October 2, 2019

Vote for Sherin Missed Call Number – 836 7796 813
Vote for Losliya Missed Call Number – 836 7796 805

Will Sandy catch up on last two days?
We have seen some remarkable turn arounds and twists in Bigg Boss Voting. The unpredictability is what makes this format very interesting and keeps people hooked to this show. Sandy is trailing as of today but he may catch up as his fans needs a wakeup call and they should realise that if Sandy needs to win or be runner up they should not split vote and give him all fifty votes as well as missed calls. Let's see how things end up tomorrow.
Vote for Sandy Missed Call Number – 836 7796 811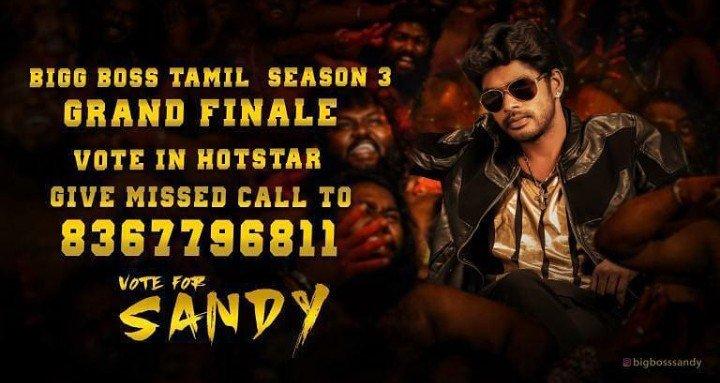 Bigg Boss 3 Tamil Final Vote Results
(Update as on Friday 4th October 2019)
Mugen – 32% Vote
Losliya – 27% Vote
Sherin – 23% Vote
Sandy – 18% Vote