Bigg Boss 3 Tamil vote results update for 2nd October – Mugen is leading the race to win Bigg Boss Tamil Title. People from Malaysia, Singapore and Tamil Nadu are in favour of Mugen to win Bigg Boss Title. Mugen's talent is enormous, he impressed everyone with his singing skills on 1st October which would have won him even more fans. People from Malaysia and Singapore are doing their best to make him a winner of this show and he is justifying their action by behaving really well inside the house. He leads the vote by more than 50%.
(Read here – On how to vote for Mugen from Malaysia and Singapore)




What happened to Kavin Army and Losliya Army?
We expected Losliya to get equal or even better number of votes than Mugen as she would be having the support of her fans as well as Kavin's fans. But it looks like that's not the case on the first two days of final week of Bigg Boss. She has around 25% of vote and is trailing behind Mugen by a huge margin. We expected her to perform better but people from SriLanka and UK Tamils have failed to support her over Tharshan. Since Tharshan elimination was a shocker there has been less number of votes for her so far. Hope the situation changes in the last three days of Voting.
(Read here – How to vote for Losliya from SriLanka and UK)
Sandy is trailing behind Losliya, we expected him to give run for Mugen's money but this is again a shocker. We thought Sandy would be the one winning the Title but people of TamilNadu have chosen Mugen over him. Since he being an Indian and a man with abundant talent we expected more vote for him over Mugen. We have to see the official sources if he has received more votes as people of India can only vote via Hotstar at present and this may turn the table in his favour.
Sherin is at last and may need a miracle to turn voting in her favour. This is due to the fact that she doesn't have a strong fanbase but her fans surprised everyone by giving her more votes than Cheran and Mugen. We expect such a miracle from her fans to bring Sherin to one of top 3. Whom do you think will win Bigg Boss 3 Title? Comment below and don't forget to vote Via HotStar app and in our unofficial poll too.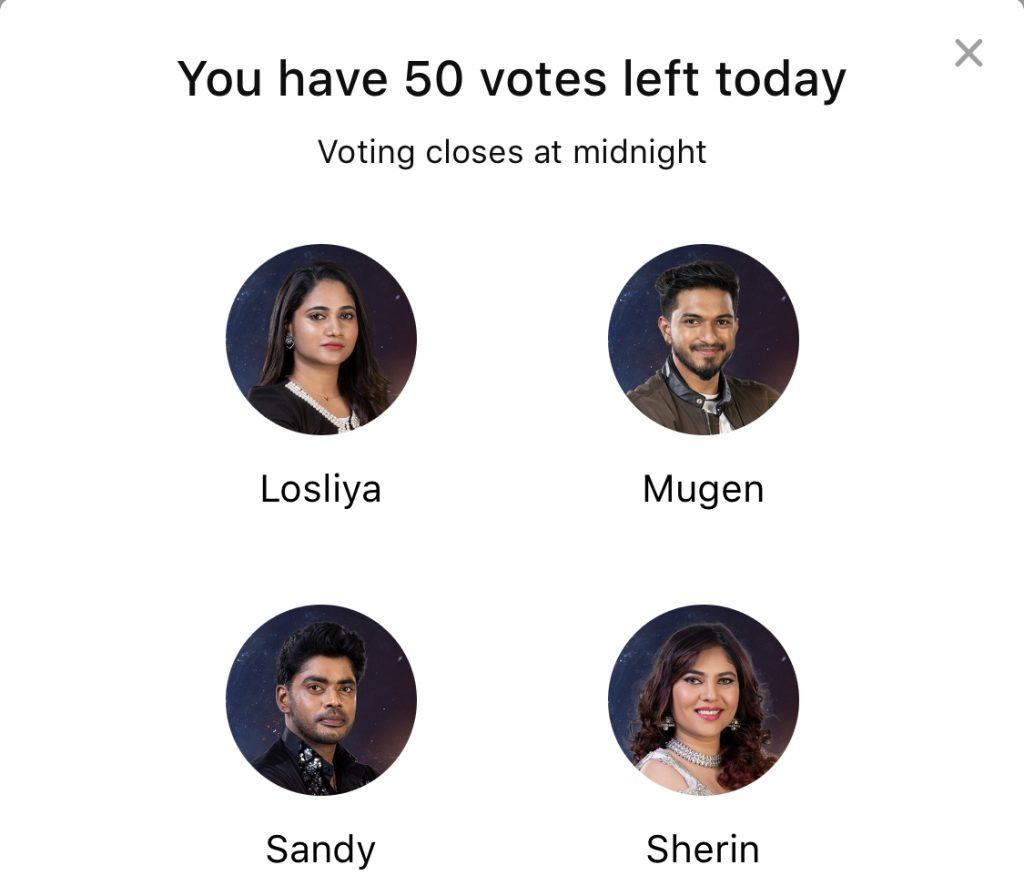 Who will win the Bigg Boss 3 Tamil title?