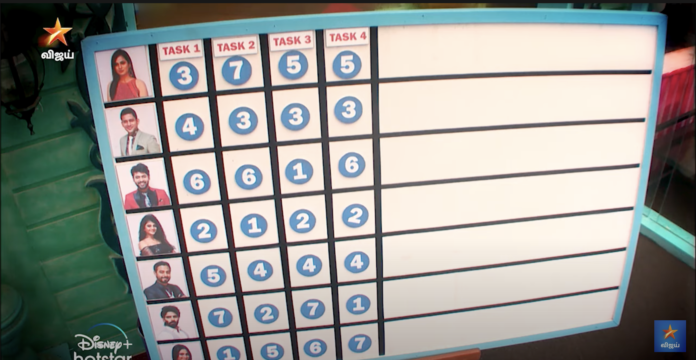 The ticket to the finale task in Bigg Boss house is going on with all the contestants giving their best to win the task; today, four rounds have been completed. Ramya has already finished first in two rounds today, while Rio was already first in two rounds yesterday.
Bala finished first in the task of picking the sticker on his back and scored 7 points. He was followed by Shivani with 6 points, Ramya with 5 points, Aari with 4 points, Somshekar with 3 points, KP with 2 points, and Rio with 1 point. At the end of the third round, Bala was in the first place.
But in the next song contest, Bala repeatedly failed to find the right song to find music and sing the lyrics, so he got the last place.
In this task, Aari, Ramya, and Som got the same number of points, so Ramya got 7 points in the tie-break placed in the trio, and he took first place with 20 points in all four tasks. It is noteworthy that the last time Ramya got the song 'Kutty Story' from the movie 'Master,' it was Thalapathy Vijay's song from 'Master' that helped her to win the tiebreaker round.
Details of points earned by Housemates at the end of Task 4 in Ticket to finale:
Ramya: 20
Shivani: 19
Rio: 19
Bala: 17
Aari: 17
Somshekar: 13
Gabriella: 7
With only one task left, Som and Gabriella are expected to face stiff competition from the other five.