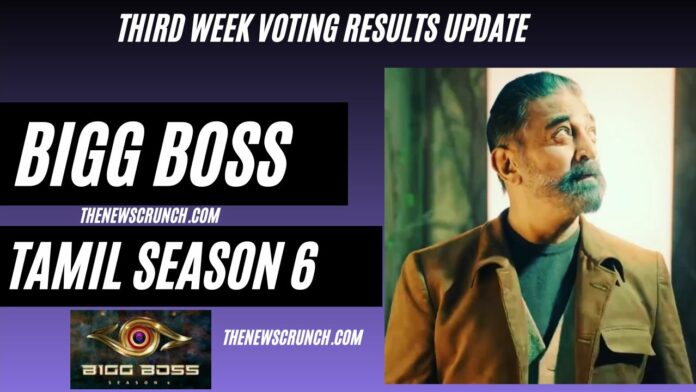 Bigg Boss 6 Tamil vote kickstarts its third with an interesting doll task. The third week of Bigg Boss Tamil Season 6 started off with a with a nominations task with seven eviction nominations. Eight housemates are safe from nominations while the seven nominations will fight it out in the second elimination of Bigg Boss 6 Tamil.
Bigg Boss 6 Tamil voting results window will open once the nominations task is concluded earlier this week. Queency became the second captain of the Bigg Boss Tamil Season 6 house. However, the fight for safety from the second eviction puts Asal and ADK in danger.
Bigg Boss 6 Tamil Nominations List Week 3 Elimination
Azeem
Ayesha
Asal
ADK
Rachita
Maheshwari
Janani
Bigg Boss 6 Tamil Online Voting Results – Live Poll – 26th October – Day 3
The toy house task puts the contestants under the limelight to perform. However, the story task promises to create an impact from the audience.
Azeem and Rachitha's support puts them in a good spot to increase audience support.
Asal Kolar is trailing the voting results while Maheshwari suffers from low morale.
Janany is lurking in danger as well and the peer pressure is pushing her to the edge while Dhanalakshmi continues to earn good footage inspite of her safety.
It will be an interesting fight for elimination in Bigg Boss Tamil Season 6 this week.
Bigg Boss Tamil Season 6 Voting Results – Week 3 – 26th October 2022 Live Poll
Bigg Boss 6  Vote – Online Voting Procedure
Open the Hotstar app and login to your account.
search for Bigg Boss 6 Tamil vote
Click on vote for your favorite contestant.
There is a maximum limit of ten votes per day.