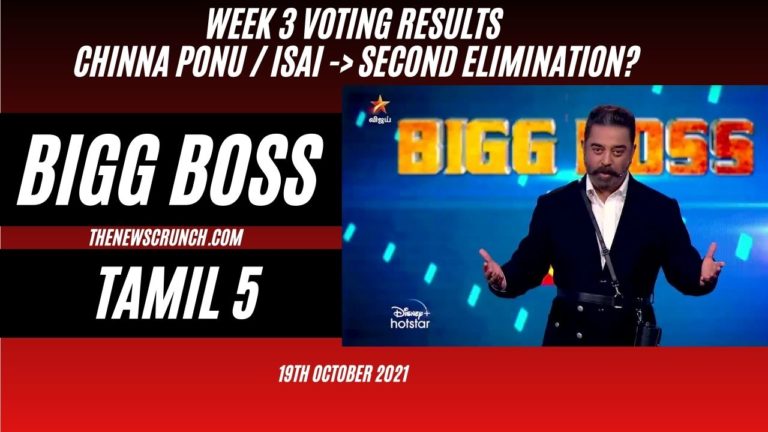 Bigg Boss 5 Tamil starts the third week with an exciting nominations task. After an interesting conclusion to the second week, Nadia Chang was the first eviction of Bigg Boss 5 Tamil. However, nine contestants are nominated for the second elimination from the Bigg Boss 5 Tamil house.
The voting results for the week 3 elimination look promising as a mixture of strong and weak contestants are nominated. Captain from last week, Thamarai and Pavni entered the Bigg Boss 5 Tamil eviction nominations list for the first time. However, it will be interesting who will be eliminated at the end of this week. The unofficial voting results signal danger for Chinna Ponnu, Isai Vani and Abishek.
Bigg Boss 5 Tamil Nominations List Week 3
Akshara
Pavni
Priyanka
Abhishek
Iyki Berry
Thamarai Selvi
Isai Vani
Chinna Ponnu
Abhinay
Bigg Boss 5 Tamil Voting Results Week 3 – 19th October
Akshara – 15% vote share
Pavni – 17% vote share
Priyanka – 21% vote share
Abhishek – 5% vote share
Iyki Berry – 11% vote share
Thamarai Selvi – 12% vote share
Isai Vani – 6% vote share
Chinna Ponnu – 4% vote share
Abhinay – 9% vote share
Bigg Boss 5 Tamil Week 3 Voting Results & Analysis – Day 1 – 19th October 2021
The winner of the captaincy task this week will play a crucial role in determining the impact on the house.
Thamarai Selvi's lacklustre captaincy and indirect targeting led to her first eviction nomination. However, she is among the top 5 of the nine nominations.
Abishek was saved by a whisker from last week's elimination. He continues to lurk around in danger but he is a TRP booster with his crisp statements.
Priyanka cruises to the first position among the nine contestants. However, Pavni and Akshara are close behind the bubbly Vijay TV anchor.
Isai Vani's statements about being left out hurt a few contestants in the Bigg Boss 5 Tamil house. She is in the bottom three of the voting results.
Chinna Ponnu and Isai Vani are in danger of eviction from Bigg Boss 5 Tamil house this week. However, these are early days to decide the elimination from unofficial voting results.
Bigg Boss 5 Tamil Missed Call Numbers
These are the missed call numbers for contestants:
| | |
| --- | --- |
| Contestant | Missed Call Number |
| Vote for Priyanka Deshpande | 8367796814 |
| Vote for Isai Vani | 8367796807 |
| Vote for Abishek Raaja | 8367796802 |
| Vote for Namitha Marimuthu | Eliminated |
| Vote for Abhinay Vaddi | 8367796801 |
| Vote for Pavani Reddy | 8367796813 |
| Vote for Imman Annachi | 8367796806 |
| Vote for Akshara Reddy | 8367796803 |
| Vote for Nadia Chang | Eliminated |
| Vote for Varun | 8367796818 |
| Vote for Iykki Berry | 8367796808 |
| Vote for Shruti Jeyadevan | 8367796816 |
| Vote for Thamarai Selvi | 8367796817 |
| Vote for Ciby Chandan | 8367796805 |
| Vote for Niroop Nandhakumar | 8367796812 |
| Vote for Raju Jeyamohan | 8367796815 |
| Vote for Chinna Ponnu | 8367796804 |
| Vote for Madhumitha | 8367796809 |
Bigg Boss Tamil Season 5 Voting Methods
There are two voting methods by which the viewers can cast votes for their favorite contestant. One is an Hostar App Voting, and the other is by Missed Call Voting.
The step-by-step procedure on "How to Vote for Bigg Boss Tamil Online through Hotstar?" has given below. The contestants who fail in convincing the audience may eliminate from the show.
How to Vote Bigg Boss Tamil Online on Hotstar App
For your queries on "How to Vote for Bigg Boss Tamil?" below are the answers:
Download Hotstar App from Google Play Store or App Store
Create or login to your account on Hotstar App
Search for 'Bigg Boss' using the search box on the top right.
Select the Bigg Boss Tamil Season 5 show banner.
Now, you will find a Voting option below the latest Bigg Boss Tamil video
Click the Vote button to cast your votes
Images of Nominated contestants will appear on the screen
Tap on your favorite contestant and split your votes
You can vote a maximum of 50 votes a day (Voting closes at midnight)
Vote For Bigg Boss Tamil 5 Contestants through Missed Call
Also, the missed call voting can be done with the < firm>Missed Call Numbers provided for each contestant. To vote for your favorite contestant in Bigg Boss, give a missed call to the below-mentioned mobile number. A maximum of 10 calls per number is counted for a week, and the calls after that will not be considered for voting. You can vote for your favorite contestant by giving a missed call to the number.