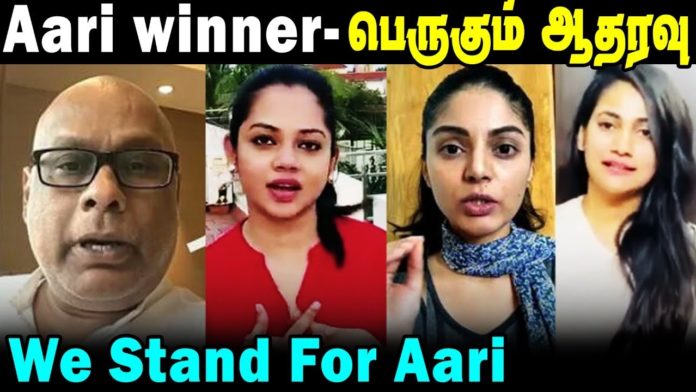 Bigg Boss 4 Tamil gears up for an epic 'Grand finale' weekend as the five finalists give their best shot at winning the title. Apparently, several evicted contestants are supporting their fellow finalists during the finale week. Sanam Shetty and Anitha are rooting for Aari Arjuna to become the title winner while Samyuktha is supporting Balaji. Archana, Nisha, and Ramesh are supporting Rio Raj.
The final five contestants include Vijay TV stars Rio Raj, Ramya Pandian, social activist Aari Arjuna, actor Somshekar, and model Balaji Murugadoss. Out of the five finalists, Aari and Balaji have a massive fan following. Aari's PR team and social media presence are amazing. Balaji is gaining steam in the 'finale week' voting.
However, the major highlight of the show was the tussle between Balaji and Sanam. There were some unseen allegations of Balaji degrading Sanam Shetty inside the house. Sanam's eviction was a major disappointment to several fans as it was unexpected. Aari, Anitha, and Sanam were commended by the audience for playing an individual game. However, Aari is the lone warrior from the lot.
Earlier this week, Sanam Shetty entered the house and mentioned to Aari that she came to see him alone. Also, after leaving the Bigg Boss house, Sanam Shetty took to Twitter to voice her support for Aari Arjuna. It is unclear if Sanam is supporting Aari because she wants him to win genuinely or because she is against Balaji.
Earlier this month, Sanam Shetty released the 'Aari Anthem', a tribute song to Aari Arjuna from his fans. The bonhomie looked strong and Sanam looked genuine in her support for Aari. However, the real reason for deleting the tweet is unclear.
Apart from Sanam Shetty, several celebrities including James Vasanthan voiced their support for Aari.
my fav trio.#Anitha #SanamShetty n #Aari .real players of #BiggBossTamil4 history.thy r been themselves.gave tough fight evn all other contestants against them.i admire @Aariarujunan bro alot.i never lik actors bt i lik tis real man.💖 pic.twitter.com/1KwWlf6K7s

— 🌻🍃🌻Turiya🌻🍃🌻 (@aa_turiya) January 16, 2021