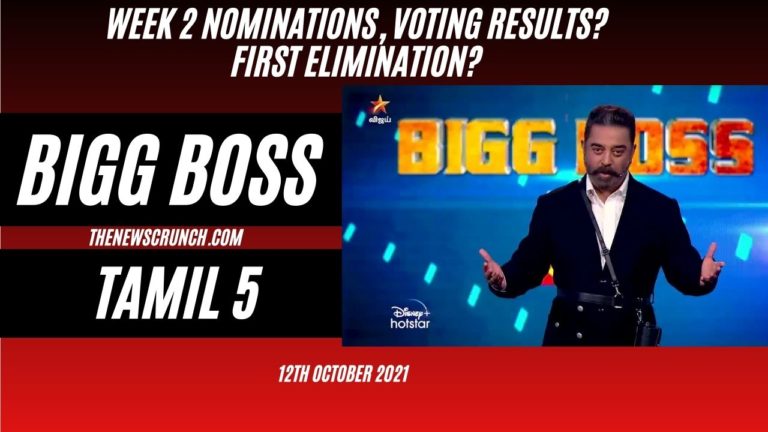 Bigg Boss 5 Tamil is off to a lukewarm start. The first week was a damp squib with the 'story task' failing to attract the audience. However, the elimination of Namitha due to undisclosed reasons injected some buzz into the reality show. The nominations task took place for the first time in Bigg Boss 5 Tamil on Monday's episode.
Also Read: Bigg Boss Tamil 5 Week 2 Nominations List
Bigg Boss 5 Tamil's nomination list features fifteen contestants for the first-ever eviction this weekend. Though Namitha is out, there will be elimination from Bigg Boss 5 Tamil. Some of the top performers and entertainers are nominated with most votes and the voting results will be interesting to follow. Some of the mediocre performers surprisingly escaped with least votes in the nominations.
Bigg Boss 5 Tamil Nominations List Week 2
Isaivani
Imman Annachi
Priyanka Deshpande
Abhishek Raja
Akshara Reddy
Abhinay Vaddi
Nadia Chang
Ciby
Niroop Nandakumar
Madhumitha
Suruthi
Chinna Ponnu
Iykki
Raju
Varun
Bigg Boss 5 Tamil Voting Results Week 2 – 12th October
Isaivani – 13% vote share
Imman Annachi – 18% vote share
Priyanka Deshpande – 23% vote share
Abhishek Raja – 6% vote share
Akshara Reddy – 19% vote share
Abhinay Vaddi – 7% vote share
Nadia Chang – 4% vote share
Niroop Nandakumar – 10% vote share
**Other candidates did not record significant vote share. Newscrunch will update the vote share from unofficial voting polls on a daily basis.
Bigg Boss 5 Tamil Week 2 Voting Results & Analysis – Day 1 – 12th October 2021
A surprising closed room nominations task took place for the first time in Bigg Boss Telugu 5. However, the nominations were quite surprising.
While a few names like Priyanka, Annachi, and Niroop were to dose the flame of popularity for the trio, the remaining names are surprising.
It was shocking to see Tamarai and Raju left out of the nominations. However, the least visible contestants like Ciby, Varun, and Madhumitha also received a lifeline of safety.
Priyanka leads the voting results on the first day followed by Akshara and Imman Annachi.
The audience clearly feels Akshara did not deserve to get four dislikes on Sunday's episode. This will help the model to come out stronger after this nomination.
The stronger bunch of contestants entered the nominations keeping out Nadia Chang.
Hence, Nadia's chances of elimination are higher this weekend in Bigg Boss 5 Tamil.
Abhishek is failing to get the support of the audience in spite of his credible screen presence.
Captain Thamarai Selvi was safe from the nominations this week.
Bigg Boss 5 Tamil Top 3 Contestants
Bigg Boss 5 Tamil Bottom 3 Contestants