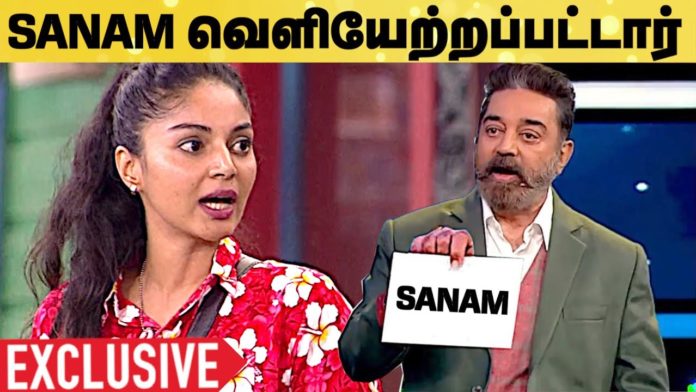 Bigg Boss Tamil Season 4 enters its tenth week after a shocking eviction last weekend. While Bigg Boss Telugu 4 is known for its shocking and disappointing eliminations, Bigg Boss Tamil dwelled on the same road. Sanam Shetty was eliminated from the reality show on Sunday's episode.
Shivani, Anitha, and Sanam were the bottom three contestants in week 9's elimination voting results of Bigg Boss Tamil. However, Rio, Aari, Nisha were safe. It was expected that Anitha will leave the house considering Bigg Boss needs Shivani to stay in the house to keep the love track with Balaji alive.
While the audience expected Anitha to be evicted considering her fan base is lesser compared to Sanam or Shivani, the unexpected happened. Sanam Shetty was announced as the eviction of Bigg Boss Tamil Season 4 this week much to the shock of the audience.
Sanam was a fierce competitor and was accoladed by the audience for her individual gameplay. Sanam was ferocious through the season and voiced her opinions neutrally. However, at times it was evident that Sanam did it for traction and camera coverage which is understandable.
Also Read: Bigg Boss Tamil 4 Week 10 Elimination Nominations List – Balaji's Twist Expected?
However, on a broader picture, there were several contestants like Nisha or Anitha who were expected to be less favored by the audience. This brings out the possibility of Sanam Shetty entering as a wildcard entry like Vanitha Vijayakumar did last week.
One possibility for indications about Sanam's eviction could be a double eviction in week 10 elimination weekend. If this happens, we expect to see Suresh or Azeem enter the house as a wildcard entry. With just 35 days left in its kitty, Bigg Boss Tamil Season 4 has twelve contestants in the house.
Another possibility for Sanam's return could be on a temporary basis to spice up things inside the house or take revenge and plot the pitfall for Balaji's game. The audience will be delighted to see that happen as Sanam's fans are thoroughly disappointed with her eviction before the contestants in Rio and Archana's gang.
Anitha becomes the captain of this week and hence, there are chances for one or two members from Rio's gang to leave the house. A group of audience preidcted Sanam's entry into the secret room but it did not happen.
Even if #SanamShetty had got least votes which is highly impossible, why the F did @EndemolShineIND not send her to secret room considering her #popularity and TRP.
Something really seems to be fishy🤔
I still couldn't come to terms as to why #Sanam was evicted.#BiggBossTamil4 pic.twitter.com/vIv6ne1Xlu

— Ajay Ashok🅰️🅰️ (@AjayAsho) December 7, 2020
Guys clearly difference is shown in the below pic….
One of the contestant is saying she has done nothing in past 60 days
And other #sanam we knw the efforts she made to prove herself #Sanam #nobigboss #iamsanamsupporter #bb4fake #secretroom pic.twitter.com/82oCGSVQx4

— i_am_RM (@iamRM30250085) December 7, 2020
#NoSanamNoBiggBoss
This is why I'm UNSURE of #Sanam's entering the SECRET ROOM

She is PLAYING the GAME in the RIGHT MANNER now

But @vijaytelevision BADLY wants her to DOUBT herself & her game and want her to somehow make mistakes & go wrong 🤬🤬😤😤🤦https://t.co/I6z8QsB1J4

— #BiggBossTamil5 (@bbtamill05) December 6, 2020