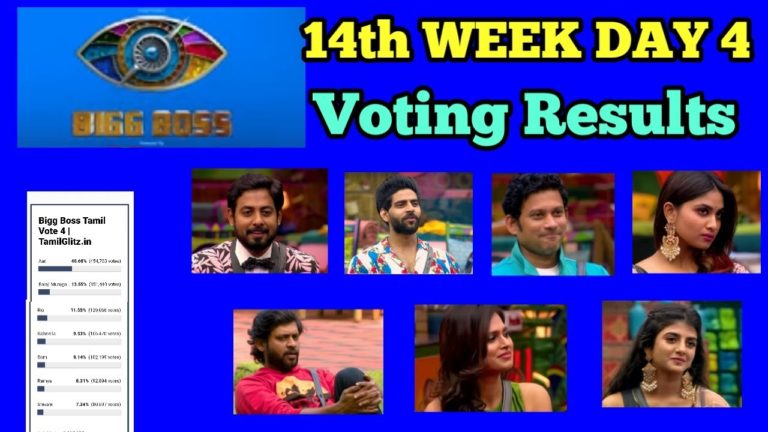 Bigg Boss Tamil Season 4 is all set to complete an eventful fourteenth week. All seven contestants were nominated for eliminations in final week 14 of Bigg Boss 4 Tamil. Twelve eliminations took place so far and Aajeedh was the last contestant to be evicted. Intense and painstaking 'Ticket to finale' tasks took place on the final day (Friday) which involved great performances from Ramya, Shivani, and Somshekar.




The 'Ticket to finale' tasks and influence from outsiders, pressure to enter finale week is impacting the voting results by considerable means. Shivani and Ramya continue to struggle around in the last two positions from the first day and Somshekar's 'Ticket to finale' victory adds to the pressure on the two.
This week's voting results saw healthy competition in voting as the top contestants like Aari, Rio, and Balaji were in nominations. Aari dominated the voting results from day 1 while Balaji was in a distant second position. The presence of all three contestants from the 'love bed group' gives the audience a week to shift focus on Ramya and Shivani.
Bigg Boss Tamil 4 Final Voting Results Week 14 Eviction – 9th January 2020
Aari – 39% vote share (390,717 votes)
Balaji– 15% vote share (150,665 votes)
Rio – 11% vote share (110,123 votes)
Somshekar – SAFE – Ticket to Finale Winner – First Finalist
Ramya – 8% vote share (81,803 votes)
Gabriella – 9% vote share (90,423 votes)
Shivani – 8% vote share (80,099 votes)
Bigg Boss 4 Tamil Elimination Nominations List Week 14
Aari
Balaji
Ramya
Somshekar
Rio
Gabriella
Shivani
Bigg Boss 4 Tamil Eviction Week 14 Voting Trends and Analysis
The 'Ticket to finale' tasks was the major decisive factor for this week. Shivani entered the elimination battle this week though she was not nominated and is trailing. Unfortunately, she will be evicted thanks to her poor voting results.
Ramya Pandian rose from her shackles in the final 'Ticket to finale' tasks which added to her votes but it was too little too late.
Gabriella is marginally ahead of the rest of the ladies which puts her in a safe position. Gabi is riding on her millennial fan base.
Shivani tried her best to make an impact in the 'Ticket to finale' tasks but stiff competition drew a veil on her efforts.
Somshekar came in as an underdog in the 'Ticket to finale' tasks and emerged victoriously. This puts pressure on Shivani, Ramya and Gabriella.
Aari cruises with a massive lead over Rio and Balaji in spite of mediocre performances in the 'ticket to finale' tasks. 'Aari anthem' will boost his popularity in the finale week.
Who Will Be Safe From Eviction This Week?
According to reports, Aari, Rio, and Balaji are likely to be safe this week.
Who Will Be in Danger of Eviction This Week?
According to reports, Ramya Pandian and/or Shivani are likely to be evicted this week.
** Voting lines are closed for the Week 14 voting **
How to Vote in Bigg Boss Tamil Season 4 Week 14 Elimination?
How to vote in Hotstar for Bigg Boss Tamil Season 4 Disney+ Hotstar App?
Open Play Store or iOS Appstore in your Mobile.
Search for the " Disney+ Hotstar " app and Install the latest version.
Now open the Hotstar app.
Go to the "Bigg Boss Tamil" page.
Below the stream, you will find an option to vote.
Click the "Vote now" button.
Choose your Favourite Contestant.
You have 50 votes each day to vote for Bigg Boss Tamil 4.
Missed call voting method is also available, and that information is given below.