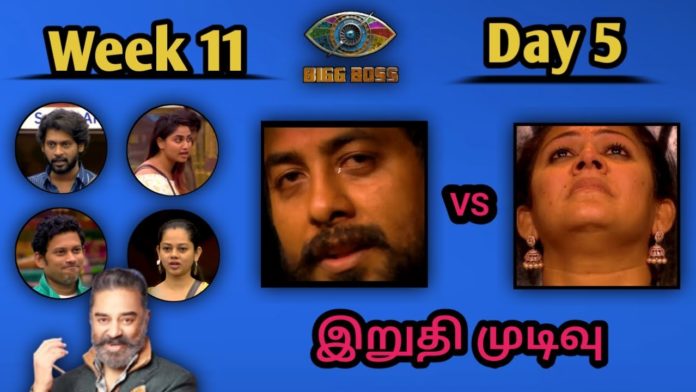 Bigg Boss Tamil season 4, week 11 was full of confusion and fight as the contestants stayed away from forming groups during the luxury budget task. This wasn't very pleasant for the audience when they couldn't follow what was going on inside the house. Finally, the task ended, and Ramya, Balaji, and Archana were selected as the best performers of this week. Gabriella and Shivani were selected as the worst performer of this week, and they were sent to jail.
Read below – Bigg Boss 4 Tamil Eviction this week: Archana eliminated from the show
Archana, Ramya, and Balaji completed next week's captaincy task, and there was fierce competition between them. They knew the importance of captaincy as the captain is safe from next week's nomination. Archana won the captaincy task, and she will be the captain of week 12.
But Archana is in nomination for this week's eviction, and the latest voting results show that she is in danger of eviction due to fewer votes. Since Archana won the captaincy task, Bigg Boss might save her from eviction, and the person with the next least votes might get evicted this week.
Aari leads the voting results with a 30% vote while Rio is in the second position with 15% votes. Balaji Murugadosss is missing from the nomination this week and will most likely feature next week's nomination. Will, another member of 'Love Group,' get evicted this week; we will have to wait and watch.
Bigg Boss Tamil 4 Voting Results Week 11 Eviction – 18th December 2020
These are the voting numbers as tonight's voting lines will be closed.
Rio –

14.83%

  (159,796 votes)

Aari –

30.19%

  (325,337 votes)

Anitha –

12.04%

  (129,749 votes)

Aajeedh –

10.17%

  (109,598 votes)

Archana –

7.89%

  (84,972 votes)

Somshekar –

 10.33%

  (111,347 votes)

Shivani –

 14.55%

  (156,833 votes)
Bigg Boss 4 Tamil Elimination Nominations List Week 11
Archana
Rio
Aari
Shivani
Aajeedh
Somshekar
Anitha
Bigg Boss 4 Tamil Eviction Week 11 Voting Trends and Analysis
This week's open nomination came as a shocker to many contestants as they had to give opinions about the two housemates they were nominated in front of everyone. It was refreshing to watch for the audience, but the contestants still nominated housemates from the other group and stuck to their favorites.
Aajeedh's performance this week was notable as he tried his best to impress the audience. But unfortunately, he is still in the danger zone and might get evicted this week.
Aari once again leads in votes; he will be one of the Top 5 contestants of this season.
Somshekar is trailing along with Aajeedh, and there are chances of him getting evicted if there is double elimination similar to last week.
Archana is at the bottom with the least votes, but having won captaincy for next week, there are chances that she might get saved from eviction this week.
Shivani is again cruising and staying in the middle; this is due to her Instagram fans who keep supporting her even though she is not actively participating inside Bigg Boss house.
Captain Ramya Pandian was safe from nominations this week. 
Who Will Be Safe From Eviction This Week?
According to reports, Aari, Shivani, and Rio are likely to be safe this week.
Who Be Will in Danger of Eviction This Week?
According to reports, Aajeedh or Som Sekar are likely to be evicted this week. Archana might save from eviction as she won captaincy for next week.
How to Vote in Bigg Boss Tamil Season 4 Week 11 Elimination?
How to vote in Hotstar for Bigg Boss Tamil Season 4 Disney+ Hotstar App?
Open Play Store or iOS Appstore on your Mobile.
Search for the " Disney+ Hotstar " app and Install the latest version.
Now open the Hotstar app.
Go to the "Bigg Boss Tamil" page.
Below the stream, you will find an option to vote.
Click the "Vote now" button.
Choose your Favourite Contestant.
You have 50 votes each day to vote for Bigg Boss Tamil 4.
The missed call voting method is also available, and that information is given below.
Featured Image Poll results in courtesy: tamilglitz